100 रूपए से भी कम कीमत में खरीदिए स्टाइलिश ज्वेलरी (Buy Stylish Jewellery For Less Than Rs. 100)
100 रूपए से भी कम कीमत में स्टाइलिश ज्वेलरी खरीदने की बात सुनकर हैरान हो गईं ना? जी हां, ये मुमकिन है. हम आपको बता रहे हैं 100 रूपए से भी कम कीमत में स्टाइलिश ज्वेलरी खरीदने के स्मार्ट ऑप्शन्स. आपकी जानकारी के लिए हम बता दें कि अगर आप इन प्रोडक्ट्स को यहां दिए गए लिंक्स से ख़रीदते हैं तो ज़रूर हमें उनकी बिक्री के आर्थिक लाभ से कुछ शेयर या फायदा मिलेगा. लेकिन ये सभी उत्पाद सही हैं और पब्लिश करने के समय उपलब्ध भी.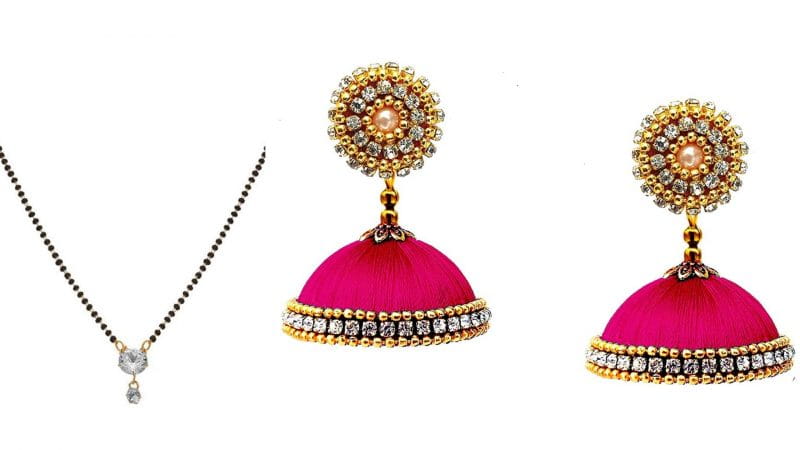 ये स्टाइलिश स्टेटमेंट ईयररिंग आप ट्रेडिशनल और वेस्टर्न दोनों आउटफिट के साथ पहन सकती हैं. Roops Collexion Afgani Chand German Silver Oxidized Grey Jhumki Earrings for Women. ये स्टाइलिश स्टेटमेंट ईयररिंग आपको मिल जाएंगे सिर्फ 71 रु. में.
ये स्टाइलिश मंगलसूत्र हर मॉडर्न वुमन पहनना चाहेगी. Jewel Word Jewellery Multi Strand Heavy Gold Plated Mangalsutra for Women (Black & Gold). ये डेली वेयर मंगलसूत्र आपको मिलेगा मात्र 71 रु. में.
अगर आप ट्रेंडी हूप्स खरीदना चाहती हैं, तो ये सिल्वर पॉलिश राउंड हूप्स आपको ज़रूर पसंद आएंगे. Unknown Metal Alloy Hoop Earrings for Women & Girls. ये स्टाइलिश गोल्ड पॉलिश राउंड हूप्स आपको मिल जाएंगे सिर्फ 75 रु. में.
अगर आपको ऑक्सीडाइज़्ड ज्वेलरी पसंद है, तो ये मिरर चांदबाली इयररिंग आपको बहुत पसंद आएगी. CosMos Afghani Designer Vintage Oxidised German Silver Tribal Hoop Dangler Hanging Mirror Chandbali Earring Antique Jewellery for Girls & Women ये ऑक्सीडाइज़्ड मिरर चांदबाली इयररिंग आप सिर्फ 50 रु. में खरीद सकती हैं.
Amazon Auto Links: Too Many Requests ; TooManyRequests: The request was denied due to request throttling. Please verify the number of requests made per second to the Amazon Product Advertising API.
अगर आपको एथनिक ज्वेलरी पसंद है, तो रेड झुमकी खरीदे बिना आप नहीं रह पाएंगी. Youth Pink Silk Thread Jhumka Earrings. ये खूबसूरत एथनिक झुमकी आप खरीद सकती हैं मात्र 90 रु. में.
अगर आपको फ्यूज़न ज्वेलरी पसंद है, तो ये कलरफुल सिल्वर डैंगलर ईयररिंग आपको जरूर पसंद आएंगे. Shining Angel Oxidised Silver Dangler Earrings for Women and Girls. ये स्टाइलिश कलरफुल सिल्वर डैंगलर ईयररिंग आप खरीद सकती हैं सिर्फ 80 रु. में.