Dr Rajeshwari, Bangalore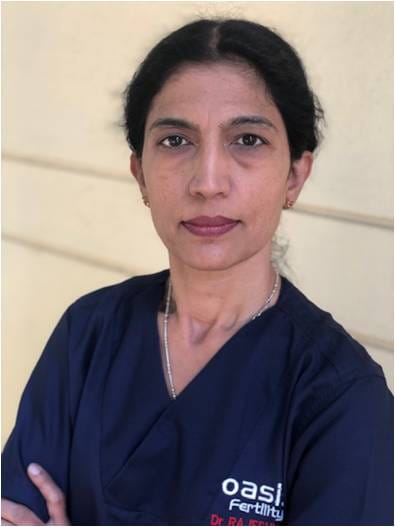 Clinical Head & Fertility Specialist
Dr. Rajeshwari Mikkere Veeraiah is an expert in Obstetrics & Gynaecology witha special focus and expertise in thefield of Reproductive Medicine. With over 10 years of experience, she has performed significant number of OPUs, embryo transfers with a great success rate.
After completing MBBS from Kempegowda Institute of Research & Medical Science, Bengaluru, Dr Rajeshwari obtained a postgraduate training, Diplomat of National Board (DNB), in Obstetrics & Gynaecology. She also holds the MRCOG (Member of the Royal College of Obstetricians & Gynaecologists), London and Fellowship in Reproductive Medicine from Rajiv Gandhi University of Health Sciences.
Prior to her association with Oasis Fertility, Dr. Rajeshwari worked as a Senior Registrar at St. Georges University Hospital, NHS Foundation Trust, London, UK. She was also associated with Gunasheela Fertility Centre where she was actively involved in clinical training and organising academic programs.