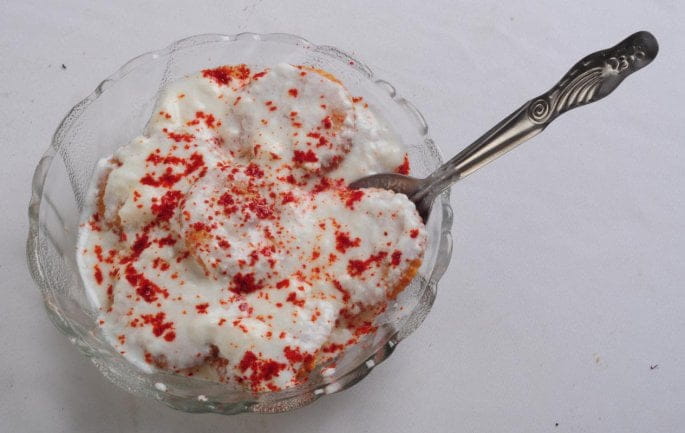 Biscuits Dahi Vada
Quick Chaat Recipe- Biscuits Dahi Vada
यदि आप ऑयल फ्री दही वड़ा खाने के शौक़ीन हैं, तो ट्राई करें ये इंस्टेंट चाट. 
सामग्रीः
– 250 ग्राम जीरा बिस्किट (मार्केट में उपलब्ध), – आधा किलो दही
– 1 टीस्पून अदरक-हरी मिर्च का पेस्ट
– नमक स्वादानुसार
– 1 टीस्पून लाल मिर्च पाउडर
– 1 टीस्पून जीरा पाउडर,
– 1 टेबलस्पून हरा धनिया (बारीक कटा हुआ).
विधिः
– दही में अदरक-हरी मिर्च का पेस्ट और नमक मिला लें.
– सर्विंग के समय एक प्लेट में बिस्किट रखकर उसके ऊपर स्वादानुसार दही डालें.
– लाल मिर्च पाउडर और जीरा पाउडर बुरकें
– हरे धनिया से सजाकर सर्व करें.
Content:
– 250 grams caraway biscuits (available in the market), – a pound of yogurt
– 1 tsp ginger-green chilli paste
– Salt To Taste
– 1 tsp red chilli powder
– 1 tsp cumin powder,
– 1 tbsp coriander leaves (finely chopped).
Method
– Ginger-green chilli paste of yogurt and salt.
– By the time the biscuits in a plate serving up taste-enter the yogurt.
– Red chili powder and cumin powder burakem
– Get all the Stack green coriander.
(328)
₹ 1,299.00
₹ 190.00
Contains : 1 Mangalsutra Colour: golden,Material: gold plated Look stylish and flaunt your signature style by wearing this Mangalsutra by Bhagya Lakshmi. It will elevate your style quotient in no time. Preventive Measures: No direct Perfume, deo, wat...
read more
(as of January 17, 2021 - More info

Product prices and availability are accurate as of the date/time indicated and are subject to change. Any price and availability information displayed on [relevant Amazon Site(s), as applicable] at the time of purchase will apply to the purchase of this product.

)
(313)
₹ 460.00
₹ 285.00
Light weight 75 grams Hi bounce enjoy your game Durable | value for money Material rubber covered with felt In box contents pack of 6 balls
(as of January 17, 2021 - More info

Product prices and availability are accurate as of the date/time indicated and are subject to change. Any price and availability information displayed on [relevant Amazon Site(s), as applicable] at the time of purchase will apply to the purchase of this product.

)
(423)
₹ 449.00
₹ 399.00
Synthetic Machine wash PUMA is one of the world's leading sports brands, designing, developing, selling and marketing footwear, apparel and accessories
(as of January 17, 2021 - More info

Product prices and availability are accurate as of the date/time indicated and are subject to change. Any price and availability information displayed on [relevant Amazon Site(s), as applicable] at the time of purchase will apply to the purchase of this product.

)