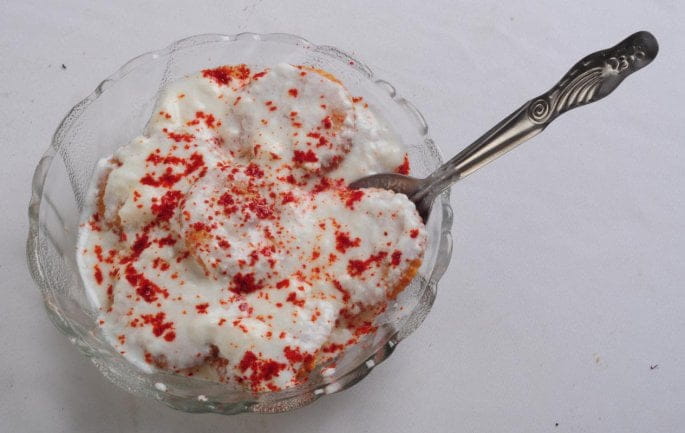 Biscuits Dahi Vada
Quick Chaat Recipe- Biscuits Dahi Vada
यदि आप ऑयल फ्री दही वड़ा खाने के शौक़ीन हैं, तो ट्राई करें ये इंस्टेंट चाट. 
सामग्रीः
– 250 ग्राम जीरा बिस्किट (मार्केट में उपलब्ध), – आधा किलो दही
– 1 टीस्पून अदरक-हरी मिर्च का पेस्ट
– नमक स्वादानुसार
– 1 टीस्पून लाल मिर्च पाउडर
– 1 टीस्पून जीरा पाउडर,
– 1 टेबलस्पून हरा धनिया (बारीक कटा हुआ).
विधिः
– दही में अदरक-हरी मिर्च का पेस्ट और नमक मिला लें.
– सर्विंग के समय एक प्लेट में बिस्किट रखकर उसके ऊपर स्वादानुसार दही डालें.
– लाल मिर्च पाउडर और जीरा पाउडर बुरकें
– हरे धनिया से सजाकर सर्व करें.
Content:
– 250 grams caraway biscuits (available in the market), – a pound of yogurt
– 1 tsp ginger-green chilli paste
– Salt To Taste
– 1 tsp red chilli powder
– 1 tsp cumin powder,
– 1 tbsp coriander leaves (finely chopped).
Method
– Ginger-green chilli paste of yogurt and salt.
– By the time the biscuits in a plate serving up taste-enter the yogurt.
– Red chili powder and cumin powder burakem
– Get all the Stack green coriander.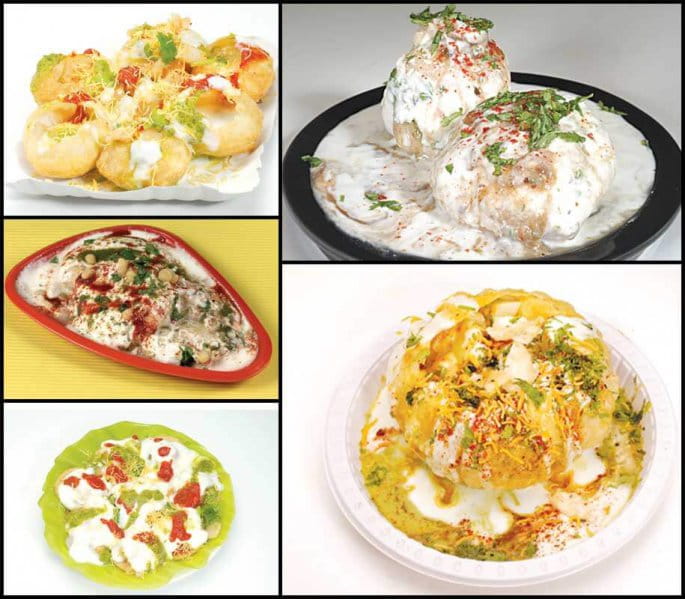 chat this festival
फेस्टीवल स्पेशल- लीजिए 4 चटपटी चाट का मज़ा (Festival Special- Binge on spicy and tasty chat this festival)
सेवपूरी
उबले व मैश किए हुए आलूओं में बारीक़ कटा प्याज़, लाल मिर्च पाउडर और नमक मिलाएं. डिश में भेलपूरी की रेडीमेड पूरियां रखकर आलू-प्याज़ वाला मिश्रण रखें. स्वादानुसार हरी चटनी और मीठी चटनी डालें. चाट मसाला, हरा धनिया और बारीक़ सेव से सजाकर सर्व करें.
दही-बटाटा पूरी 
उबले हुए आलूओं में लाल मिर्च पाउडर और चाट मसाला मिक्स करें. पूरियों को हल्का-सा तोड़कर आलू वाला मिश्रण भरें. ऊपर से स्वादानुसार फेंटा हुआ गाढ़ा दही और इमली-खजूर की मीठी चटनी डालें. चाट मसाला बुरककर ऊपर से बारीक़ सेव से सजाएं.
दही-वड़ा
उड़द दाल को भिगोकर पीस लें. इस पेस्ट में नमक और अदरक का पेस्ट मिलाकर गरम तेल में वड़े बनाएं. इन वड़ों को गुनगुने पानी में 10 मिनट तक भिगोकर रखें. पानी निचोड़कर वड़ों को प्लेट में रखें. ऊपर से दही, इमली-खजूर की मीठी चटनी डालें. भुना हुआ जीरा पाउडर, बारीक़ कटा हरा धनिया-हरी मिर्च से सजाकर सर्व करें.
दही वाली राज कचौरी
टॉपिंग के लिए: उबले व मैश किए आलू और काबुली चना, लाल मिर्च पाउडर, नमक और चाट मसाला को मिक्स करें.
कचौरी बनाने के लिए: 1 कप मैदा, आधा कप सूजी, 1 टेबलस्पनू मोयन का गुनगुना तेल, थोड़ा-सा नमक और आवश्यकतानुसार पानी मिलाकर गूंध लें. मोटी लोई लेकर पूरी की तरह बेलें. गरम तेल में क्रिस्पी होने तक तल लें. ठंडा होने पर कचौरी को तोड़ लें. आलू-चने वाला मिश्रण भरकर ऊपर से दही, इमली-खजूर की मीठी चटनी और हरी चटनी डालें. लाल मिर्च पाउडर और चाट मसाला बुरकें. सेव और हरी धनिया से गार्निश करके सर्व करें.