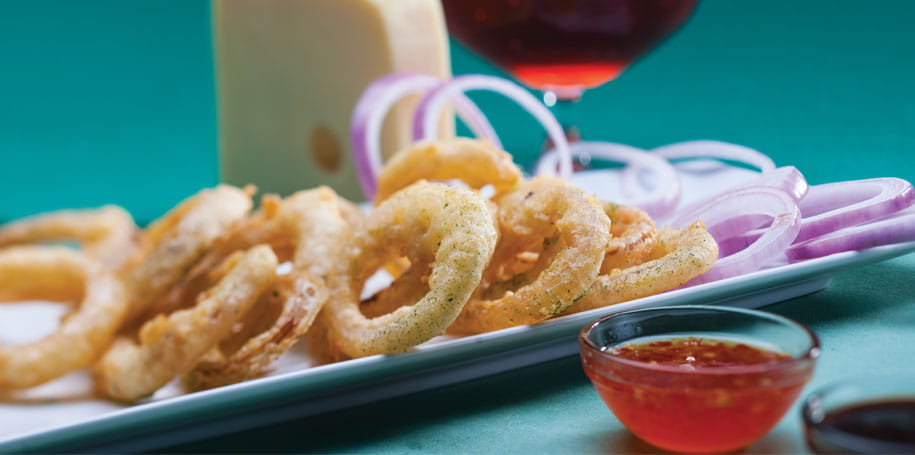 Cheesy onion rings
चीज़ी अनियन रिंग्स – Cheesy onion rings
सामग्री: 2 बड़े प्याज़ (गोल स्लाइस में कटे हुए), 4 टेबलस्पून बेसन, 2 टेबलस्पून चीज़ (कद्दूकस किया हुआ), आधा-आधा टीस्पून अजवायन, लाल मिर्च पाउडर और धनिया पाउडर, अमचूर पाउडर, चाट मसाला और नमक (तीनों स्वादानुसार), तलने के लिए तेल.
विधि: तलने के लिए तेल और अनियन रिंग्स को छोड़कर सारी सामग्री को मिलाकर घोल बनाएं. अनियन रिंग्स को डुबोकर गरम तेल में सुनहरा होने तक तल लें. टोमैटो सॉस के साथ गरम-गरम सर्व करें.
Ingredients: 2 large onions (cut into round slices), 4 tbspn gram flour, 2 tbsps (grated), half-a-half teaspoon oven, red chilli powder and coriander powder, amchoor powder, chut masala and salt (according to the three flavors) , Oil to fry
Method: Make the batter by mixing all the ingredients except for oil and onion rings for frying. Dip the onion rings and put it in hot oil until golden. Serve hot with tomato sauce.