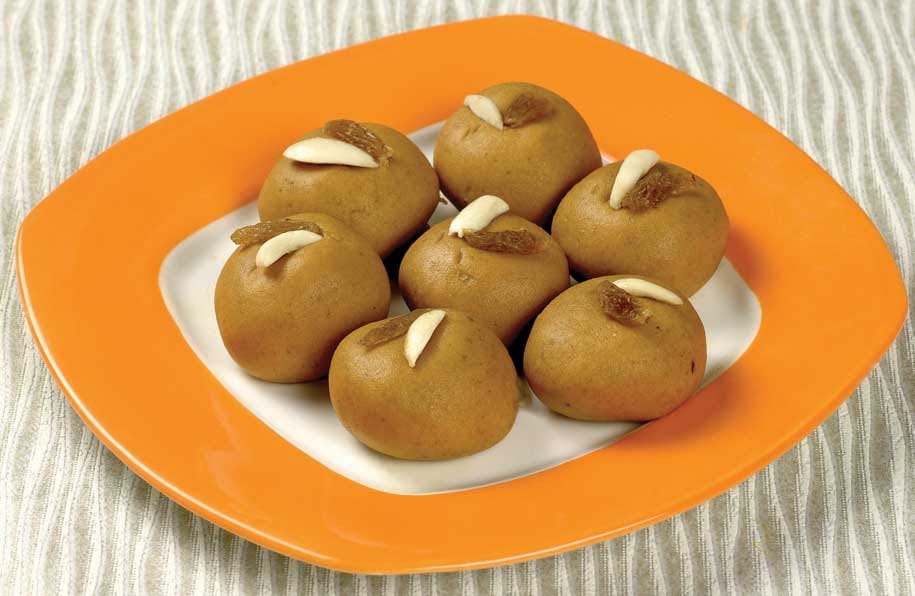 Besan Laddoos
बेसन लड्डू – Besan Laddoos
सामग्री: 2 कप बेसन, आधा कप घी, 1 कप पिसी हुई शक्कर, थोड़े-से किशमिश और कटे बादाम, 1 टीस्पून इलायची पाउडर.
विधि: माइक्रोसेफ बाउल में बेसन और घी मिक्स करें और 2 मिनट तक माइक्रो हाई पर रखें. बीच में चलाते रहें. माइक्रो 450 पर 10 मिनट ख़ुशबू आने तक भूनें. ठंडा करें. पिसी हुई शक्कर, इलायची पाउडर, किशमिश और बादाम मिलाकर लड्डू बनाएं.
बेसन लड्डू – Besan

Ladd

oos
Ingredients: 2 cups gram flour, half cup ghee, 1 cup grated sugar, a little raisins and chopped almonds, 1 tsp cardamom powder.
Method: Mix gram flour and ghee in a microwave bowl and keep it on micro-high for 2 minutes. Keep running in the middle. Fry on micro 450 for 10 minutes after smelling. cool off. Mix grounded sugar, cardamom powder, raisins and almonds and make them laddoos.