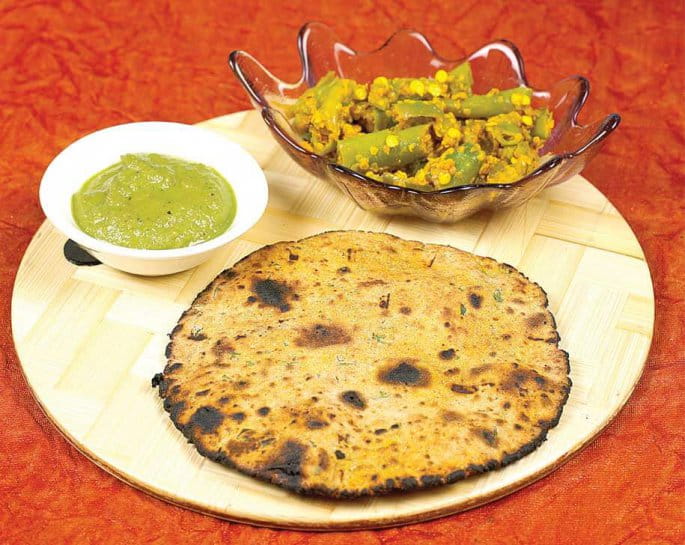 Masala Roti
मल्टीग्रेन मसाला रोटी (Multigrain Masala Roti)
सामग्री: 1 कप मिक्स आटा (बाजरा, ज्वार, गेहूं, चावल और मकई), 1/3 कप मेथी बारीक़ कटी हुई या 1/4 कप हरा धनिया, आधा-आधा टीस्पून अचार मसाला, अजवायन और जीरा पाउडर, चुटकीभर हल्दी पाउडर, 1/4 टीस्पून अदरक-हरी मिर्च का पेस्ट, 1 टीस्पून तेल, 2 टेबलस्पून दही, लगाने के लिए घी आवश्यकतानुसार पानी.
विधि: घी व दही को छोड़कर बाकी सारी सामग्री मिलाकर गूंध लें. मोटी रोटी बेलकर गरम तवे पर डालें और घी लगाकर सेंक लें. दही के साथ गरम-गरम सर्व करें.
Ingredients: 1 cup mix flour (millet, jowar, wheat, rice and corn), 1/3 cup finely chopped methi or 1/4 cup green coriander, half-a-half teaspoon pickle masala, spinach and cumin powder, pinch turmeric powder, Water according to the requirement to apply 1/4 tsp ginger-green chili paste, 1 tsp oil, 2 tbsp.
Method: Cook all the ingredients except Ghee and Yogurt and knead it. Bake thick bread and put it on a hot pan and roast it with ghee. Serve hot with curd.