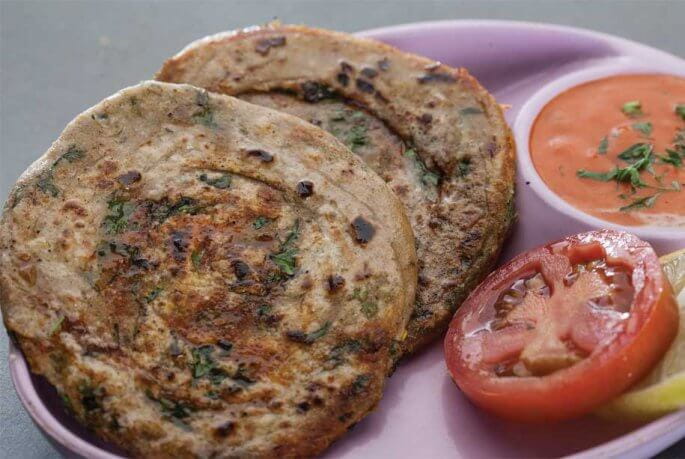 lachedar paratha
लच्छेदार परांठा (lachedar paratha)
सामग्री: गूंधने के लिए: 1-1 कप मैदा और गेहूं का आटा, 1 टेबलस्पून तेल, 1/8 टीस्पून बेकिंग पाउडर, नमक स्वादानुसार, पानी आवश्यकतानुसार.
अन्य सामग्री: 1/3 कप घी (सेंकने और मोयन के लिए).
विधि: गुंधने की सारी सामग्री मिलाकर गूंध लें. कपड़े से 1 घंटे तक ढंककर रखे. पूरे आटे को एक साथ मोटी रोटी की तरह बेल लें. घी का आधा हिस्सा आटे पर फैलाकर रोल कर दें. दोबारा आटे को फैलाकर बचे हुए घी को लगाएं. आटे की 8 लोइयां बनाएं. रोटी बेलकर घी में क्रिस्पी होने तक सेंक लें.
Content: For kneading: 1-1 cups of flour and wheat flour, 1 tablespoon oil, 1/8 tsp baking powder, salt taste, water as needed.
Other stuff: 1/3 cup butter (for bathing and moyana).
Method: Take the contents of the gundhane combined kneading. Clothing-placed to marinate for 1 hour. Take the bell like a thick bread with whole wheat flour. Let's spread the butter on the roll half of dough. Put the dough back in the spreading of the remaining fuel. Create a dough 8 loiyam. Take the bread baking butter until crispy in belakara.