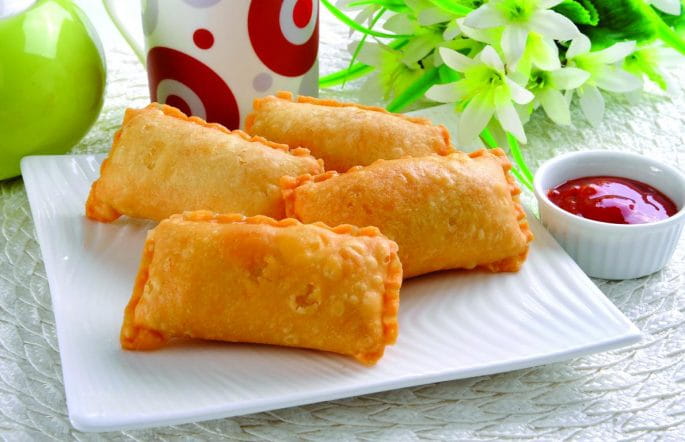 मॉनसून में गरम-गरम चाय के साथ अगर गरम-गरम स्नैक्स मिल जाए, तो दिल ख़ुश हो जाता है, स्नैक्स भी अगर पनीर के हो, तो मज़ा और भी बढ़ जाता है. यदि आप भी घर बैठे-बैठे ये मज़ा लेना चाहते हैं, तो ट्राई करें ये पनीर पार्सल (Paneer Parcel). खाने में ये जितने टेस्टी होते हैं, बनाने में भी उतने ही आसान भी है.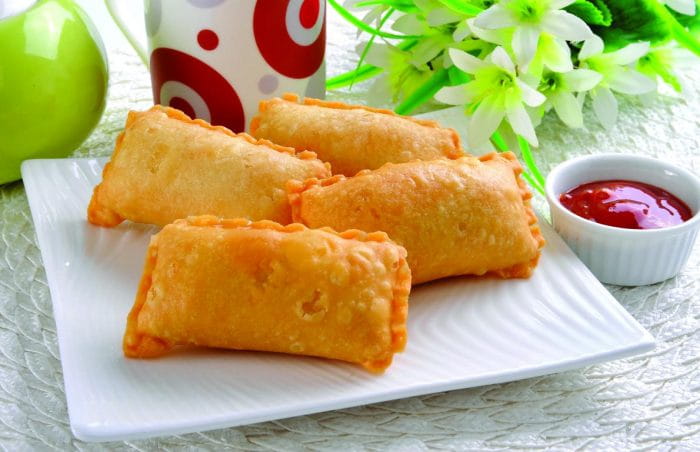 सामग्री:
250 ग्राम पनीर (कद्दूकस किया हुआ)
1 टेबलस्पून तेल
1 प्याज़ और 2 हरी मिर्च (दोनों कटे हुए)
1/4 टीस्पून हल्दी पाउडर, नमक स्वादानुसार
थोड़ा-सा हरा धनिया (कटा हुआ)
कवरिंग के लिए: 1 कप मैदा
नमक स्वादानुसार
2 टेबलस्पून तेल
पानी आवश्यकतानुसार
चुटकीभर बेकिंग सोडा
विधि: कवरिंग के लिए:
सामग्री को मिलाकर गूंध लें. 30 मिनट तक ढंककर रखें.
और भी पढ़ें: पॉप्युलर स्ट्रीट फूड: कॉकटेल कचौरी (Popular Street Food: Cocktail Kachori)
स्टफिंग के लिए:
पैन में तेल गरम करके प्याज़ डालकर 1 मिनट तक भून लें.
हरी मिर्च, नमक, हरा धनिया, पनीर और हल्दी पाउडर डालकर 1-2 मिनट तक भून लें. आंच से उतार लें.
पार्सल के लिए:
अवन को 180 डिग्री से. पर प्रीहीट कर लें.
गूंधे हुए मैदा की लोई लेकर बेलें.
1 टेबलस्पून स्टफिंग रखकर लिफ़ा़फे की तरह मोड़ें.
किनारों को पानी से चिपकाएं.
चिकनाई लगी बेकिंग ट्रे में रखकर प्रीहीट अवन में 10-15 मिनट तक बेक करें.
आप चाहें तो इसे तल भी सकती हैं.
और भी पढ़ें: मॉनसून स्नैक्स: मिक्स वेजीटेबल्स एंड कॉर्न पकौड़ा (Monsoon Snacks: Mix Vegetable And Corn Pakora)
(328)
₹ 1,299.00
₹ 190.00
Contains : 1 Mangalsutra Colour: golden,Material: gold plated Look stylish and flaunt your signature style by wearing this Mangalsutra by Bhagya Lakshmi. It will elevate your style quotient in no time. Preventive Measures: No direct Perfume, deo, wat...
read more
(as of January 17, 2021 - More info

Product prices and availability are accurate as of the date/time indicated and are subject to change. Any price and availability information displayed on [relevant Amazon Site(s), as applicable] at the time of purchase will apply to the purchase of this product.

)
(313)
₹ 460.00
₹ 285.00
Light weight 75 grams Hi bounce enjoy your game Durable | value for money Material rubber covered with felt In box contents pack of 6 balls
(as of January 17, 2021 - More info

Product prices and availability are accurate as of the date/time indicated and are subject to change. Any price and availability information displayed on [relevant Amazon Site(s), as applicable] at the time of purchase will apply to the purchase of this product.

)
(423)
₹ 449.00
₹ 399.00
Synthetic Machine wash PUMA is one of the world's leading sports brands, designing, developing, selling and marketing footwear, apparel and accessories
(as of January 17, 2021 - More info

Product prices and availability are accurate as of the date/time indicated and are subject to change. Any price and availability information displayed on [relevant Amazon Site(s), as applicable] at the time of purchase will apply to the purchase of this product.

)