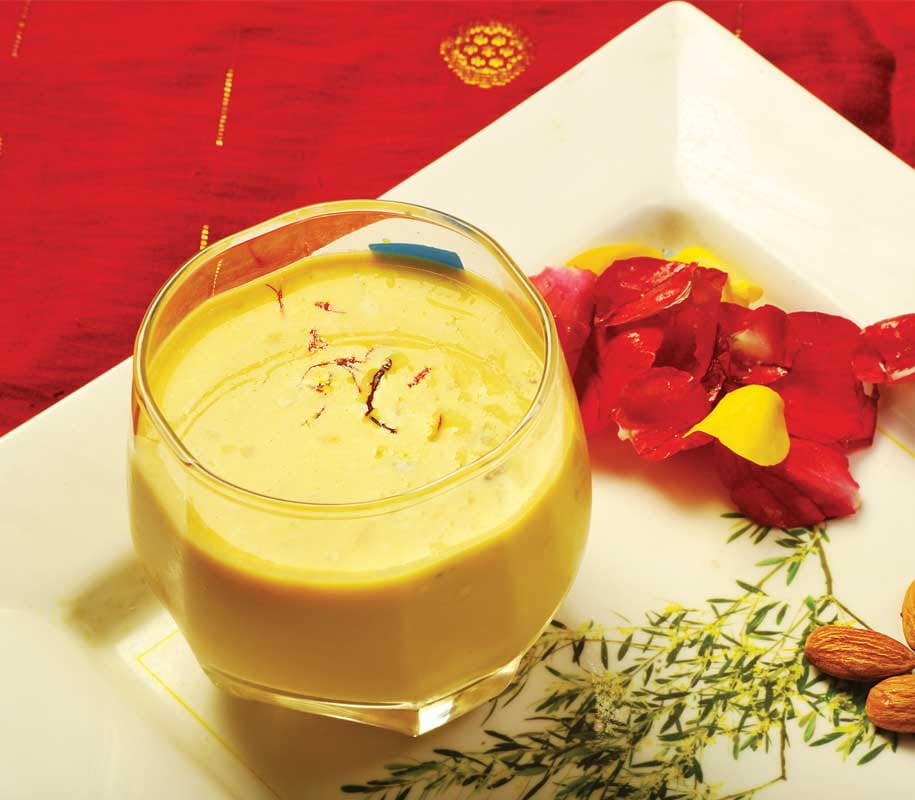 Almond milk
बादाम दूध इन हैदराबादी स्टाइल – Almond milk in Hyderabadic style
सामग्री: आधा लीटर दूध, 50 ग्राम बादाम का पेस्ट (भिगोए और छिलका निकालकर पिसे हुए), 12 बादाम (बारीक़ कटे हुए), 5 बूंद आल्मंड एसेंस, 1/4 टीस्पून पीला फूड कलर, 3 टेबलस्पून कॉर्नफ्लोर (1/4 कप दूध में घोला हुआ), 5 टेबलस्पून शक्कर, 1/4 टीस्पून इलायची पाउडर (ऐच्छिक).
विधि: पैन में दूध और शक्कर मिलाकर उबाल लें. 10-15 मिनट तक धीमी आंच पर पका लें. कॉर्नफ्लोर का घोल मिलाकर 2 मिनट तक पकाएं. बादाम पेस्ट, आल्मंड एसेंस और फूड कलर मिलाकर आंच से उतार लें. ठंडा होने पर ढंककर फ्रिज में रखें. कटे हुए बादाम और इलायची पाउडर बुरककर सर्व करें.
Ingredients: half a liter of milk, 50 grams of almond paste (soaked and beaten with peels), 12 almonds (finely chopped), 5 drops of almond essence, 1/4 tsp yellow food color, 3 tbsps cornflour (1/4 cup milk) Mixed in), 5 tablespoons sugar, 1/4 tsp cardamom powder (optional).
Method: Boil milk and sugar in the pan and boil. Cook for 10-15 minutes on low flame. Mix cornflower solution and cook for 2 minutes. Mix almond paste, almond essence and food color and remove it from the flame. Cover after cooling and keep it in refrigerator. Brush chopped almonds and cardamom powder.