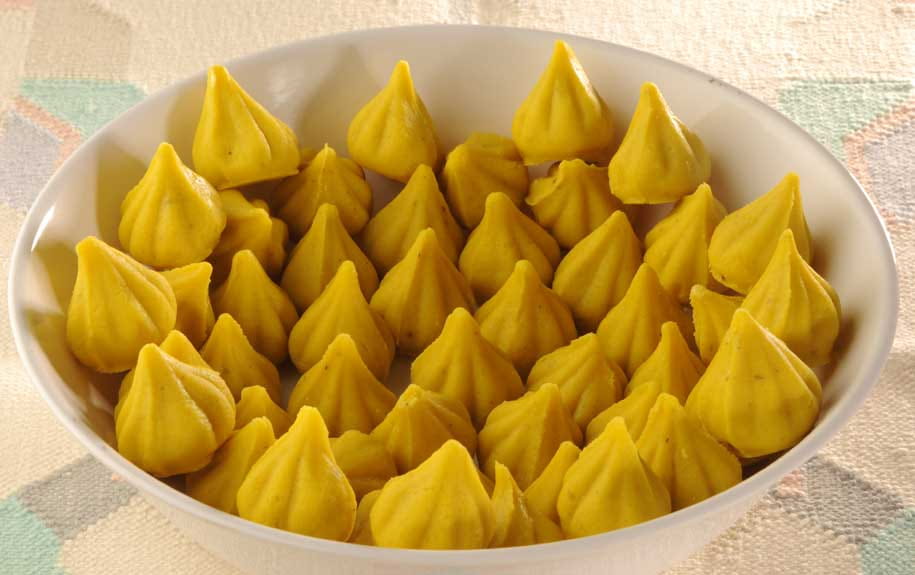 Instant Mawa Modak
इंस्टेंट मावा मोदक
सामग्री: 250 ग्राम मावा (खोआ) मैश किया हुआ, 100 ग्राम शक्कर पिसी हुई, आधा टीस्पून इलायची पाउडर, थोड़ा-सा केसर. थोड़े-से बारीक़ कटे हुए मिक्स ड्रायफ्रूट्स (बादाम, काजू और पिस्ता).
विधि: कड़ाही में खोआ डालकर धीमी आंच पर भून लें. एकसार होने तक आंच से उतार लें. सारी सामग्री डालकर अच्छी तरह मिक्स करें. थोड़ा-सा मिश्रण चिकनाई लगे मोदक मोल्ड में डालकर मोदक बनाएं.
नोट: मावा मोदक की तरह ही चॉकलेट मोदक भी बना सकते हैं.
Ingredients: 250 grams mawa (khoya) mashed, 100 grams of sugar, gram flour, half teaspoon cardamom powder, a little saffron. Few fine chopped drifruits (almonds, cashews and pistachios)



Method:

 Fry in a pan and fry on a low flame. Remove from flame until it is solid. Mix all the ingredients and mix well. Add a little mixture of lubricated Modak in the mold and make the modak.



Note:

 Like Mawa Modak, chocolate Modak can also be made.