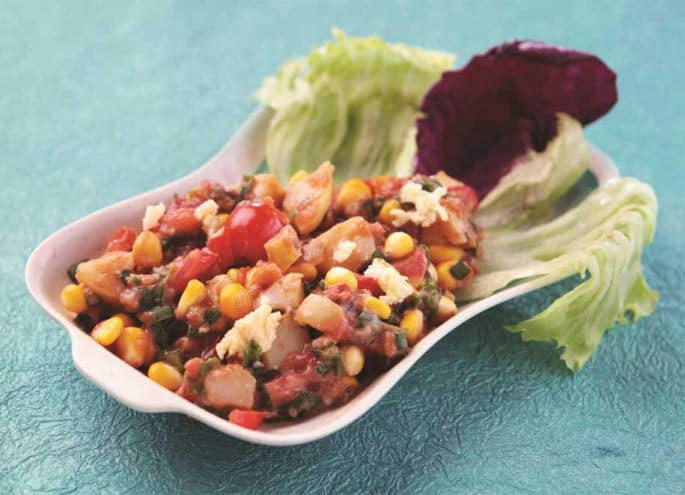 Potato Salad
मैक्सिकन स्टाइल पोटैटो सलाद (Mexican Style Potato Salad)
सामग्री: सलाद के लिए: 500 ग्राम आलू (उबले व चौकोर टुकड़ों में कटे हुए), आधा-आधा कप कटी हुई हरी प्याज़ और कॉर्न, 1 टमाटर (ब्लांच करके कटा हुआ), 1/4 कप सालसा, 1 टेबलस्पून नींबू का रस, 1 टीस्पून टैको सिज़निंग, नमक और कालीमिर्च पाउडर स्वादानुसार.
सजावट के लिए: 1 टेबलस्पून चीज़ (कद्दूकस किया हुआ), 2 टेबलस्पून खट्टी क्रीम.
विधि: सलाद की सारी सामग्री को अच्छी तरह मिक्स कर लें. चीज़ व क्रीम से सजाकर सर्व करें.
Ingredients: For salad: 500 g potato (chopped into boiled and square pieces), half-a-half cups chopped green onions and corn, 1 tomato (chopped by blanc), 1/4 cup salsa, 1 tbsp lemon juice , 1 tsp taco seasoning, salt and black pepper powder according to flavor
For decoration: 1 tbspn cheese (grated), 2 tbsp sour cream.
Method: Mix all the contents of salad well. Serve by decorating with cheese and cream.