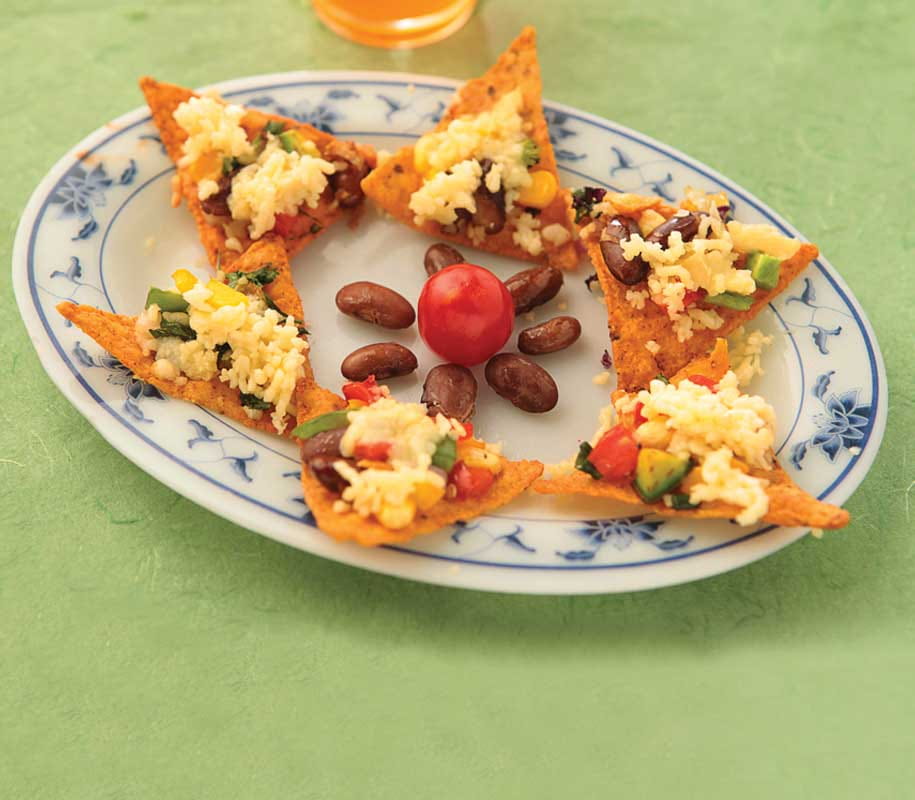 Baked Cheesy Nachoes
बेक्ड चीज़ी नाचोज़ – Baked Cheesy Nachoes
सामग्री: 20 नाचोज़ चिप्स, 50-50 ग्राम चेडार चीज़ (कद्दूकस किया हुआ) और टमाटर (कटे हुए), 3 टेबलस्पून शिमला मिर्च (कटी हुई), नमक और कालीमिर्च पाउडर स्वादानुसार, थोड़ा-सा तेल एल्युमिनियम फॉयल में लगाने के लिए.
विधि: हर एक नाचोज़ पर टमाटर और शिमला मिर्च रखकर नमक, कालीमिर्च पाउडर और चीज़ बुरकें. एल्युमिनियम फॉयल पर तेल लगाकर नाचोज़ रखें और प्रीहीट अवन में 180 डिग्री सें. पर 5-7 मिनट बेक कर लें. सालसा के साथ सर्व करें.
Ingredients: 20 nuts for chips, 50-50 grams of chadar cheese (grated) and tomato (chopped), 3 tbsp capsicum (chopped), salt and black pepper powder according to flavor, to apply a little oil in aluminum foil.
Method: Put tomato and capsicum on each nachose, add salt, black pepper powder and cheese. Put almond foil on aluminum foil and apply preheat oven to 180 degrees centigrade. Bake on 5-7 minutes. Serve with salsa.