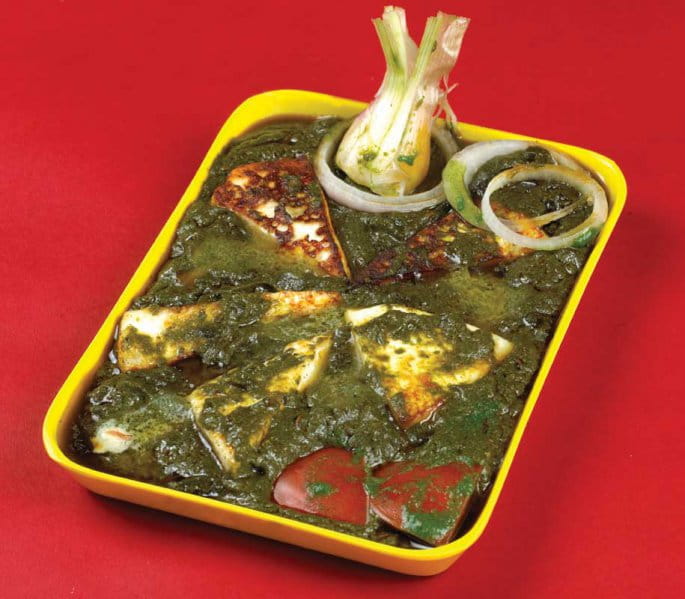 palak paneer
पालक-पनीर ( palak paneer)
सामग्रीः डेढ़ कप पालक की प्यूरी, 200 ग्राम पनीर (चौकोर टुकड़ों में कटे हुए), 1-1 टीस्पून अदरक व लहसुन (बारीक़ कटा हुआ), आधा कप प्याज़ (कद्दूकस किया हुआ), 1 कप टमाटर (बारीक़ कटा हुआ), 1 टीस्पून जीरा, 2 तेजपत्ते, 1/4 टीस्पून गरम मसाला पाउडर, आधा टीस्पून लाल मिर्च पाउडर, 1 टीस्पून धनिया पाउडर, 1/4 कप तेल, नमक स्वादानुसार, सजाने के लिए फ्रेश क्रीम.
विधिः एक पैन में तेल गरम करके जीरा का छौंक लगाएं. जीरे के तड़कने पर तेजपत्ता, अदरक व लहसुन डालकर सुनहरा होने तक भूनें. प्याज़ डालकर सुनहरा होने तक भूनें. टमाटर डालकर पैन के तेल छोड़ने तक भून लें. नमक, गरम मसाला पाउडर, लाल मिर्च पाउडर व धनिया पाउडर डालकर भूनें. पालक प्यूरी डालकर 5 मिनट तक पकाएं. पनीर के टुकड़े डालकर थोड़ी देर और पकाएं. फ्रेश क्रीम से सजाकर गरम-गरम सर्व करें.
Ingredients: 1/2 cup spinach puree, 200 grams of paneer (chopped into square pieces), 1-1 teaspoon ginger and garlic (finely chopped), half cup of onions (grated), 1 cup tomato (finely chopped), 1 Fresh cream for decorating tsp cumin seeds, 2 teaspoons, 1/4 tsp garam masala powder, half teaspoon red chili powder, 1 tsp coriander powder, 1/4 cup of oil, salt.
Method: Heat oil in a pan and add cumin seeds. Add chopped cinnamon, ginger and garlic, and fry until golden brown. Add onion and fry until golden. Add tomatoes and fry until pan leaves. Add salt, garam masala powder, red chilli powder and coriander powder and fry them. Put spinach puree and cook for 5 minutes. Add pieces of cottage cheese and cook it for a while. Serve warmly with fresh cream.