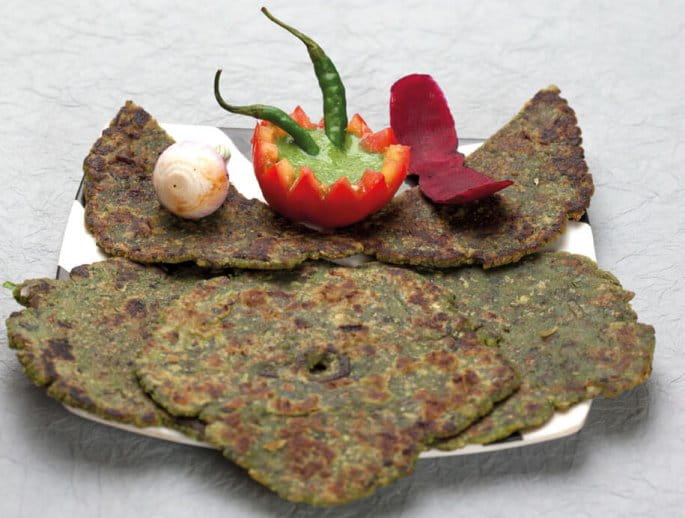 Poha Thalipeeth
पोहा थालीपीठ (Poha Thalipeeth)
सामग्रीः 1 बाउल भुना हुआ पोहा, 2 टेबलस्पून भुना हुआ गेहूं का आटा, 2 टेबलस्पून बेसन, थोड़ा-सा बारीक़ कटा पुदीना, 4 हरी मिर्च का पेस्ट, आधा टीस्पून अजवायन, नमक स्वादानुसार, सेंकने के लिए तेल.
विधिः तेल को छोड़कर सारी सामग्री मिलाकर गूंध लें. लोई लेकर हाथ से थपथपाते हुए रोटी की तरह बनाएं और तेल लगाकर दोनों तरफ़ से सुनहरा होने तक सेंकें. हरी चटनी के साथ सर्व करें.
Ingredients: 1 bowl roasted poha, 2 tablespoon roasted wheat flour, 2 tbspn gram flour, a little finely chopped mint, 4 green chilli paste, half teaspoon oatmeal, salt to taste, oil to bake.
Method: Knead all the ingredients except oil and knead it. Make a loaf of bread like a roti with oil, and apply it to the oil till it becomes golden. Serve with green sauce.