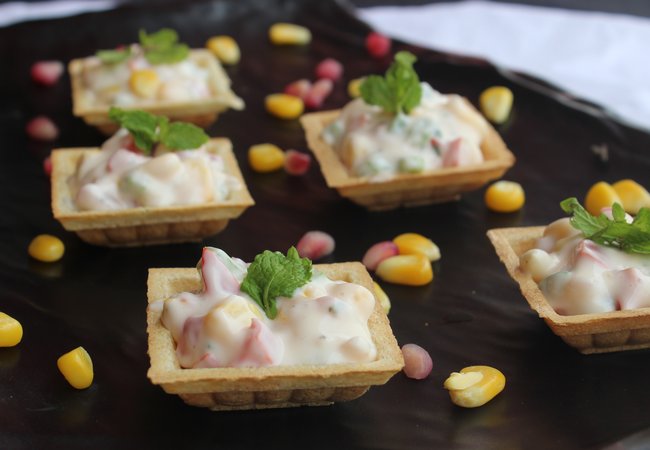 किड्स पार्टी के लिए कुछ डिफरेंट स्टार्टर और स्नैक्स प्लान कर रहे हैं, तो कॉन्टिनेंटल स्टार्टर बेस्ट ऑप्शन हैं. आलू, कॉर्न और चीज़ के फ्लेवरवाला ये स्टार्टर सिर्फ 10 मिनट में तैयार हो जाता है और चीज़ होने के कारण बच्चों को भी ये डिश बहुत पसंद आएगी.
सामग्री:
8-10 कैनेपीज़
2 टेबलस्पून कॉर्न उबले हुए
3 टेबलस्पून आलू (उबले व मैश किए हुए)
1 टेबलस्पून पार्मेसन चीज़
1 चीज़ क्यूब्स (कद्दूकस किया हुआ)
आधा टीस्पून चाट मसाला
1 टीस्पून बटर
विधि:
कॉर्न, आलू, पार्मेसन चीज़, चाट मसाला और बटर को मिलाकर माइक्रोवेव में 1 मिनट के लिए रखें.
इस स्टफिंग को कैनेपीज़ में भरकर चीज़ बुरककर माइक्रोवेव में 1 मिनट तक बेक करें.
और भी पढ़ें: स्पाइसी फ्लेवर: नाचोज़ विद ऑलिव-टोमैटो सालसा (Spicy Flavour: Nachos with Olive-Tomato Salsa)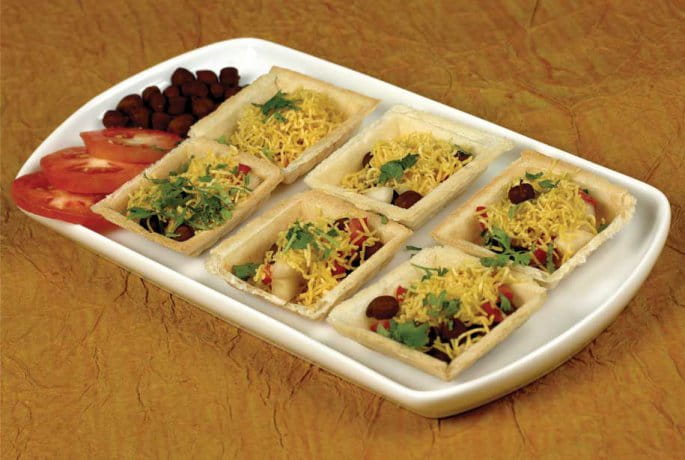 Canapes Chat
केनेपीज़ चाट (Canapes Chat)
सामग्री: 16-18 रेडीमेड केनेपीज़ (बाज़ार में आसानी से उपलब्ध).
फिलिंग के लिए: आधा कप काले चने (भिगोए और उबले हुए), आधा कप ककड़ी और टमाटर (बारीक कटे हुए), 2-2 टेबलस्पून खजूर-इमली की मीठी चटनी, कटा हुआ हरा धनिया, 1 हरी मिर्च बारीक कटी हुई, आधे नींबू का रस, 1 टीस्पून भुना हुआ जीरा पाउडर, आधा टीस्पून चाट मसाला, नमक स्वादानुसार- सभी सामग्री को मिला लें.
टॉपिंग के लिए: थोड़ी-सी सेव और हरा धनिया (कटा हुआ).
विधि: केनेपीज़ में फिलिंग की सामग्री भरें. ऊपर से हरे धनिया और सेव डालकर सर्व करें.
Material: 16-18 readymade cannepies (easily available in the market).
For filling: Half a cup of black gram (soaked and boiled), half cup cucumber and tomato (finely chopped), 2-2 tablespoons date-sweet sugar sauce, chopped green coriander, 1 green chili finely chopped, half Mix all ingredients – lemon juice, 1 tsp roasted cumin powder, half teaspoon licking masala, salt to taste.
For topping: A little sauce and green coriander (chopped).
Method: Fill out the filling material in kennepieces. Serve by adding green coriander and sauva above.