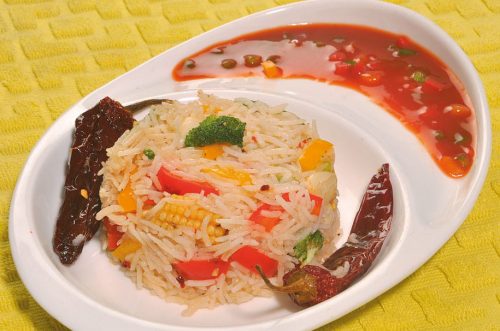 paper rice
चीज़ी पेपर राइस (Cheesy paper rice)
सामग्री: 1 कप बासमती चावल (पका हुआ), 4-5 कश्मीरी मिर्च, आधा कप शिमला मिर्च (लंबाई में कटी हुई), 6-6 लौंग व लहसुन की कलियां, आधा-आधा टीस्पून पैपरिका, ऑरिगेनो, बेसिल, रोज़मेरी और थाइम, 2 टेबलस्पून ऑलिव ऑयल, आधा कप चीज़ (कद्दूकस की हुई), आधा-आधा कप बेबीकॉर्न और ब्रोकोली, नमक स्वादानुसार.
विधि: पैन में ऑलिव ऑयल गरम करके कश्मीरी मिर्च, लौंग और लहसुन डालकर भूनें. शिमला मिर्च, बेबीकॉर्न, ब्रोकोली मिलाकर सब्ज़ियों के नरम होने तक भूनें. पका हुआ चावल और बची हुई सारी सामग्री मिलाकर सर्व करें.
Ingredients: 1 cup basmati rice (cooked), 4-5 Kashmiri chillies, half cup capsicum (cut in length), 6-6 cloves and garlic buds, half-a-half teaspoon paprika, origeano, basil, rosemary and thyme , 2 tbsps olive oil, half cup cheese (half a cup), half-a-half cup babycorn and broccoli, salt according to taste
Method: Heat olive oil in the pan and add Kashmiri chili, cloves and garlic and fry it. Mix capsicum, babycorns, broccoli, and fry until the vegetables are soft. Serve by adding cooked rice and all the remaining stuff.