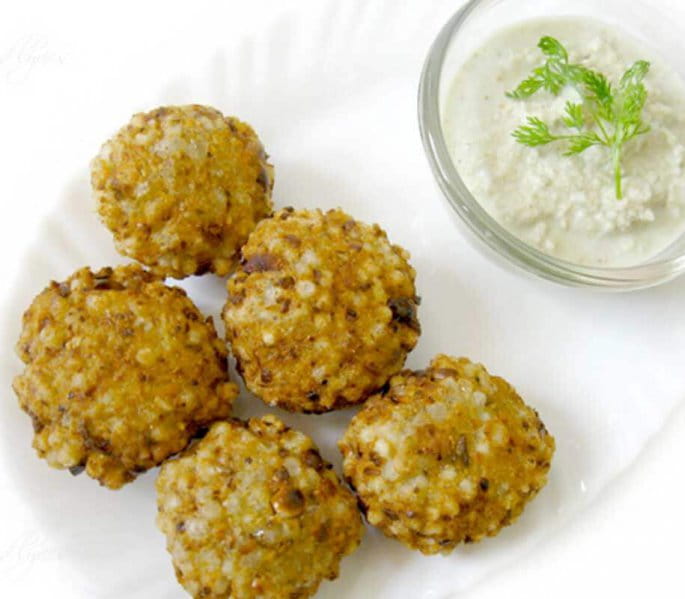 Sabudana vada
Sabudana vada – साबूदाना वड़ा
सामग्रीः 250 ग्राम साबूदाना (8 घंटे तक पानी में भिगोकर पानी निथारा हुआ), 250 ग्राम आलू (उबले व मसले किए हुए), सेंधा नमक स्वादानुसार, 2 टेबलस्पून मूंगफली का पाउडर, 3 हरी मिर्च और 1 टेबलस्पून हरा धनिया (दोनोें बारीक़ कटे हुए), तलने के लिए तेल. (sago)
विधिः एक बाउल में तेल को छोड़कर सभी सामग्री को मिलाएं. मीडियम साइज़ के बॉल्स गोले बनाएं. कड़ाही में तेल गरम करके इन वड़ों को सुनहरा होने तक तल लें. मीठी दही के साथ सर्व करें.
Ingredients: 250 grams of Sabudana (soaked in water for 8 hours), 250 grams of potatoes (boiled and mashed), rock salt, 2 tablespoons of groundnut powder, 3 green chillies and 1 tbsp green coriander (both finely chopped) ), Oil to fry. (Sago)
Method: Mix all ingredients except oil in a bowl. Make balls of medium size balls. Heat the oil in the pan, till these flowers are golden brown. Serve with sweet curd.