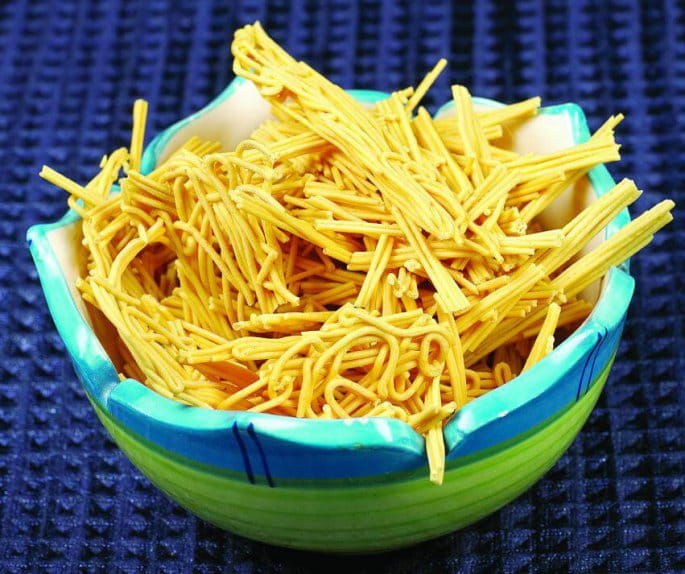 Baked Sev
Dry Snacks- Baked Sev
घर आए मेहमानों के लिए कुछ इंस्टेंट स्नैक्स बनाना चाहते हैं, तो ट्राई करें ये डिश. जो टेस्टी होने के साथ-साथ ईज़ी भी है.
सामग्री:
– 1 कप बेसन
– 1 टेबलस्पून तेल
– 1/8 टीस्पून हल्दी पाउडर
– नमक स्वादानुसार
– पानी आवश्यकतानुसार.
विधि:
– सारी सामग्री को मिलाकर गूंध लें.
– बड़ी लोई लेकर सेव के सांचे में डालें.
– सांचे से चिकनाई लगे बेकिंग ट्रे में सेव बनाकर अवन में 200 डिग्री सें. पर 10-12 मिनट तक बेक करें.
– गरम-गरम चाय के साथ सर्व करें.
content:
– 1 cup flour
– 1 tablespoon oil
– 1/8 tsp turmeric powder
– Salt To Taste
– Water as needed.
method:
– Take the overall kneading all the ingredients.
– Place the mold in the shape of a large apple.
– Create and save lubricating began baking tray in the oven with the mold 200 ° C. Bake for 10-12 minutes on.
– Make all with hot tea.
(47)
₹ 1,895.00
₹ 325.00
Beauty- Very feminine, this must-have design can be worn on any Occasion to boost up your style factor and enhance the ultra-beauty factor. Made from superior quality material for high durability. Skin friendly jewellery made as per international sta...
read more
(as of January 16, 2021 - More info

Product prices and availability are accurate as of the date/time indicated and are subject to change. Any price and availability information displayed on [relevant Amazon Site(s), as applicable] at the time of purchase will apply to the purchase of this product.

)
(10)
₹ 999.00
₹ 499.00
How to choose a Badminton racquet. The racquet you finally wield on court must be the right fit for you and should match your playing ability. Consider important things such as hand grip, racquet weight, head shape, and balance point. Check out the B...
read more
(as of January 16, 2021 - More info

Product prices and availability are accurate as of the date/time indicated and are subject to change. Any price and availability information displayed on [relevant Amazon Site(s), as applicable] at the time of purchase will apply to the purchase of this product.

)
(79)
Outer Material: Synthetic Closure Type: Lace-Up Toe Style: Round Toe Warranty Type: Manufacturer & Seller Warranty Description: 30 days
(as of January 16, 2021 - More info

Product prices and availability are accurate as of the date/time indicated and are subject to change. Any price and availability information displayed on [relevant Amazon Site(s), as applicable] at the time of purchase will apply to the purchase of this product.

)