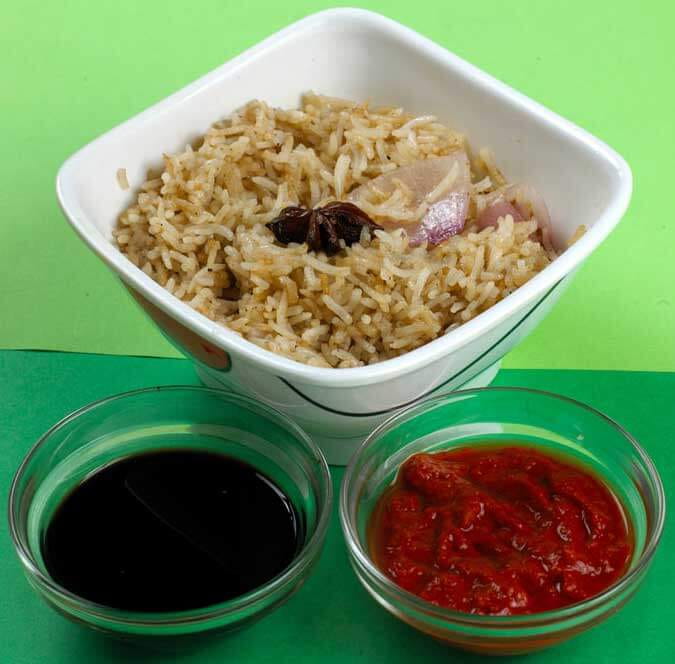 Fortune Rice
फार्च्यून राइस (Fortune Rice)
सामग्रीः 3 कप पका हुआ चावल, 2 टेबलस्पून बारीक़ कटा लहसुन, 2 स्टार फूल, 1 प्याज़ (क्यूब्स में काटकर लेयर्स अलग कर लें), 2 टीस्पून सोया सॉस, 1 टीस्पून विनेगर, नमक और कालीमिर्च पाउडर स्वादानुसार, आधा टीस्पून अजीनोमोटो, 1 टीस्पून शक्कर, 1 कप वेजीटेबल स्टॉक, 4 टेबलस्पून तेल.
विधिः कड़ाही में तेल गर्म करके लहसुन और स्टार फूल डालकर 2 मिनट तक भूनें. प्याज़ और चावल मिलाकर 3 मिनट तक पकाएं. बची हुई सारी सामग्री मिलाकर 3-5 मिनट तक मध्यम आंच पर पकाएं. गरम-गरम सर्व करें.
Ingredients: 3 cups cooked rice, 2 tablespoons finely chopped garlic, 2 star flowers, 1 onion (cut into cubes, separate layers), 2 tsp soya sauce, 1 tsp vinegar, salt and black pepper powder according to taste, half teaspoon ajinomoto, 1 tsp Sugar, 1 cup vegetable stock, 4 tbsp oil.
Method: Heat oil in a pan and fry garlic and star flowers and fry for 2 minutes. Mix onions and rice for 3 minutes. Mix all remaining ingredients and cook on medium flame for 3-5 minutes. Serve hot.