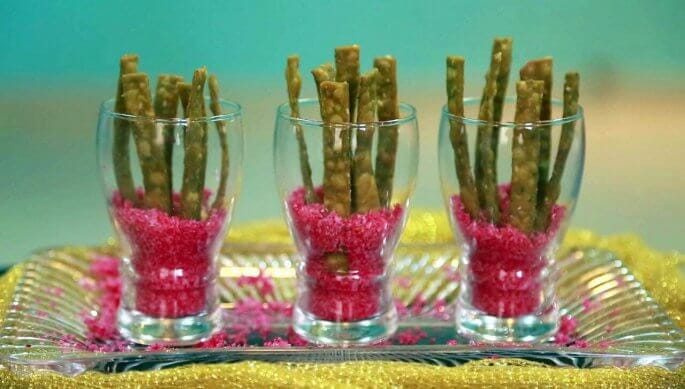 Masala Patt
मसाला पट्टी (Masala Patti)
सामग्री: 3 कप गेहूं का आटा, 6 टीस्पून सोयाबीन का आटा, 3/4 टीस्पून हल्दी पाउडर, 6 टीस्पून धनिया-जीरा पाउडर, 3 टीस्पून अजवायन, 3 टीस्पून स़फेद तिल, 3 टीस्पून हरी मिर्च का पेस्ट, डेढ़ कप पालक का पेस्ट, 6 टीस्पून कसूरी मेथी, 3 टीस्पून तेल (मोयन के लिए), 3 टीस्पून शक्कर, नमक स्वादानुसार, पानी आवश्यकतानुसार, तलने के लिए तेल.
विधि: सूती कपड़े पर गेहूं और सोयाबीन के आटे को मिलाकर पोटली बांध लें. कुकर में 1 ग्लास पानी डालकर बर्तन रखें. आटे की पोटली रखकर ढंककर 1 सीटी आने तक रखें. फिर आंच को धीमा करके 10 मिनट तक पकाएं. आंच से उतारकर ठंडा होने दें. बची हुई सारी सामग्री (तलने के लिए तेल को छोड़कर) को मिक्स करें. आवश्यकतानुसार पानी मिलाकर गूंध लें. 15 मिनट तक ढंककर रखें. मोटी लोई लेकर रोटी की तरह बेलें. लंबाई में काटकर गरम तेल में  धीमी आंच पर सुनहरा होने तक तल लें. आंच से उतारकर ठंडा होने दें. एयर टाइट कंटेनर में भरकर 15 दिन तक सुरक्षित रख सकते हैं.
Content: 3 cups of wheat flour, soybean flour 6 tsp, 3/4 tsp turmeric powder, 6 tsp coriander-cumin powder, 3 tsp thyme, 3 tsp sesame sapheda, 3 tsp green chilli paste, ½ cup of spinach paste, 6 tsp Kasuri methi, 3 tsp oil (for moyana), 3 tsp sugar, salt taste, the water needed for oil, for frying.
Method: Take a whole, soybean and wheat flour on cotton bale tie. 1 glass of water and put the pot in the cooker. Place the flour with 1 packet Cook until the whistle. Then slow down the heat and cook for 10 minutes. Allow to cool heat from shedding. Mix excluding oil) for the remainder of the content (for frying. Together with kneading water as you need. Keep up to stand, covered, 15 minutes. Vines thick blanket over matzo. Take a cutting plane on a low flame until golden in hot oil in length. Allow to cool heat from shedding. By filling in the air-tight container can protect up to 15 days.