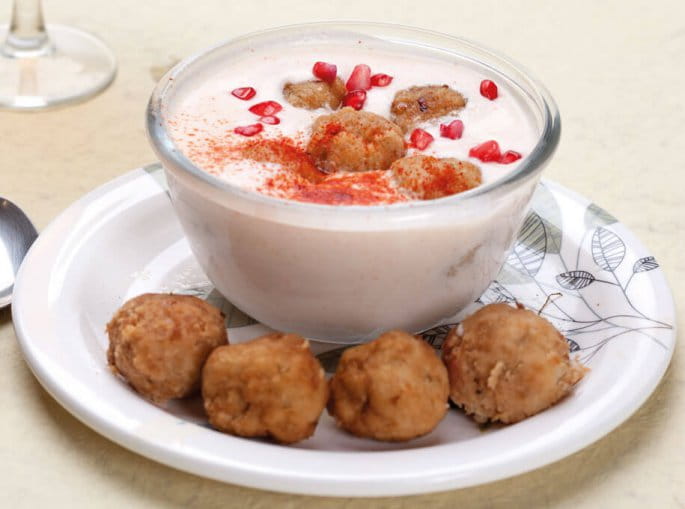 Dahi Chat
पोहा-दही चाट (Poha-Dahi Chat)
सामग्रीः 1 बाउल भुना हुआ पोहा पाउडर, 1 बाउल उबले और मैश किए हुए आलू, 2 टेबलस्पून लहसुन-हरी मिर्च का पेस्ट, 1 टीस्पून लाल मिर्च पाउडर, 250 ग्राम दही, 2 टीस्पून शक्कर, थोड़े-से अनार के दाने, नमक स्वादानुसार, तलने के लिए तेल.
विधिः पोहा पाउडर, आलू, लहसुन-हरी मिर्च का पेस्ट और नमक मिलाकर टिक्की बनाकर फ्राई कर लें. दही में शक्कर, लाल मिर्च पाउडर और नमक मिला लें. टिक्की पर मीठी दही डालें. अनार के दानों से सजाकर सर्व करें.
Ingredients: 1 Bowl roasted Poha Powder, 1 bowl boiled and mashed potato, 2 tbsp garlic paste – green chilli paste, 1 tsp red chilli powder, 250 gm curd, 2 tsp sugar, some pomegranate seeds, salt according to taste, Oil to fry
Method: Mix poha powder, potato, garlic-green chilli paste and salt and fry it by making tikki. Mix sugar, red chilli powder and salt in curd. Put sweet curd on the tikki. Serve with pomegranate grains.