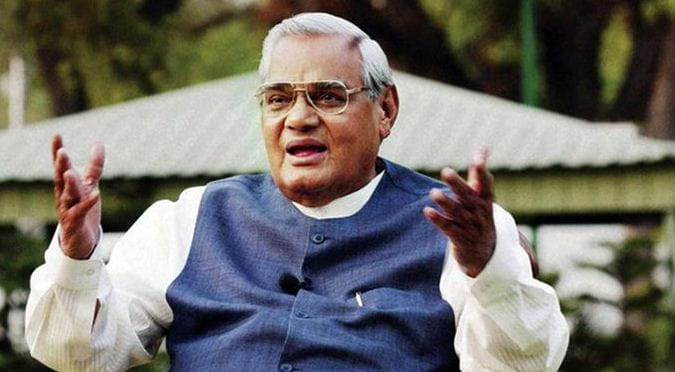 पूर्व प्रधानमंत्री और देश के महानतम नेताओं में से एक अटल बिहारी वाजपेयी के निधन से सारा देश शोक में डूबा हुआ है. करिश्माई व्यक्तित्व के स्वामी अटलजी न सिर्फ आम लोगों के लिए प्रेरणास्रोत थे, बल्कि फिल्मी हस्तियां भी उनके प्रभावशाली व्यक्तित्व की कायल थीं.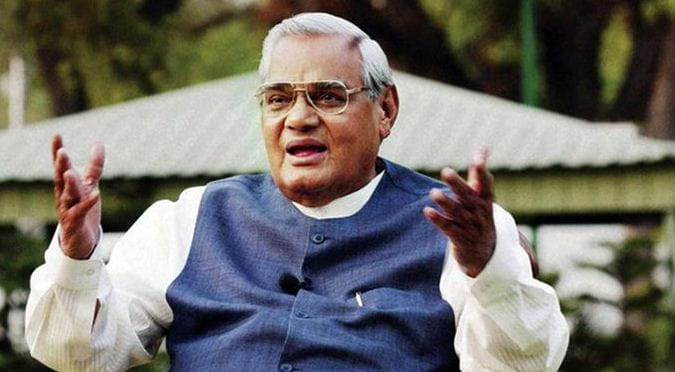 उनके निधन पर कई फिल्मी सितारों ने शोक व्यक्त करते हुए ट्वीट किया है. सदी के महानायक अमिताभ बच्चन ने श्रद्धांजलि देते हुए लिखा कि एक महान नेता, प्रख्यात कवि, अद्धुत वक्ता और प्रवक्ता, मिलनसार व्यक्तित्व. बाबूजी के प्रशंसक और बाबूजी उनके.
किंग ख़ान ने भी अटलजी की मृत्यु पर शोक व्यक्त करते हुए एक बड़ा सा ट्वीट किया. जिसमें उन्होंने लिखा कि बचपन में मेरे पिता मुझे दिल्ली में होनेवाले वाजपेयी के सभी भाषण सुनाने ले जाया करते थे. मुझे बहुत साल बाद उनसे मिलने का अवसर मिला और हमने राजनीति, कविताएं, फिल्म और हमारे बीमार घुटनों के बारे में काफ़ी चर्चा की. मुझे स्क्रीन पर उनकी एक कविता पढ़ने का अवसर भी मिला. आज देश ने पिता और एक महान नेता को खो दिया. व्यक्तिगत तौर पर मैंने अपने बचपन का एक हिस्सा खो दिया. मुझे इस बात का गर्व है कि मेरे जीवन में उनका प्रभाव रहा. भगवान उनकी आत्मा को शांति दें.
अनिल कपूर ने ट्वीट करते हुए लिखा कि आज देश ने एक महान नेता और मैंने अपने बचपन के आदर्शों में से एक को खो दिया. मैं उनके दिल से श्रद्धांजलि देता हूं.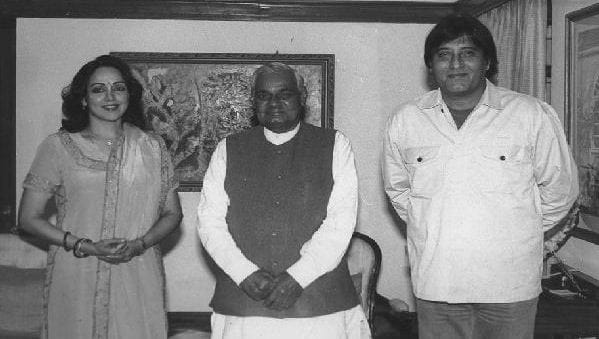 इसी तरह हेमामालिनी ने अटलजी के निधन पर शोक व्यक्त करते हुए लिखा कि मुझे अटलजी से विनोद खन्ना में मिलवाया था. वे बहुत सरल स्वभाव के थे और उनकी अच्छाई उनकी आंखों से झलकती थी. मुझे बाद में पता चला कि उन्हें मेरी फिल्में पसंद थीं और उन्होंने 25 बार सीता और गीता देखी थी. मैं यह बहुत गर्व से यह सकती हूं कि अटलजी के कारण मैंने बीजेपी ज्वॉइन किया.  इसके अलावा अन्य कई जानी-मानी हस्तियों में अटलजी के मृत्यु पर शोक व्यक्त किया.
T 2902 – Atal Bihari Vajpai (1924 – 2018 ) भावपूर्ण श्रधांजलि ; एक महान नेता , प्रख्यात कवि , अद्भुत वक्ता व प्रवक्ता , मिलनसार व्यक्तित्व ।
बाबूजी के प्रशंसक , और बाबूजी उनके ..
An admirer of my Father's works and vice versa ; gentle nature, strong fiery in his speeches pic.twitter.com/KtH9HEABkd

— Amitabh Bachchan (@SrBachchan) August 16, 2018
For The Poet Prime Minister of our country, love you Baapji…https://t.co/IKTYouMdiy pic.twitter.com/kLO4JAHvNu

— Shah Rukh Khan (@iamsrk) August 16, 2018
Today, our country lost a visionary leader & I lost one of my childhood idols…The passing of #AtalBihariVajpayeeji is even more saddening in light of all that he inspired & accomplished in his time with us. My deepest respect & condolences to his family… pic.twitter.com/fRSgp7ZvkH

— Anil Kapoor (@AnilKapoor) August 16, 2018
My assocn with Atalji began whn Vinod Khanna introduced me to him.He ws so easy to talk to & his goodness shone in his eyes. Later, I was told tht he was v fond of movies & had even seen Seeta aur Geeta 25 times! I can proudly say tht I joined BJP bec I was drawn to ths great man pic.twitter.com/Pdnzf0cHJ5

— Hema Malini (@dreamgirlhema) August 16, 2018
India is at a great loss today. Shri #AtalBihariVajpayee ji's contributions to our nation have been innumerable. Thoughts and prayers go out to his loved ones.

— Sachin Tendulkar (@sachin_rt) August 16, 2018
You have done Paramanu wonderfully giving good tributes to Atalji unlike others in Bollywood

— Siddarth Pai (@siddarthpaim) August 16, 2018
ये भी पढ़ेंः भावभीनी श्रद्धांजलि: अटल बिहारी वाजपेयी- दिलों में सदा अमर रहेंगे…(Former Prime Minister Atal Bihari Vajpayee Passes Away At 93)
(328)
₹ 1,299.00
₹ 190.00
Contains : 1 Mangalsutra Colour: golden,Material: gold plated Look stylish and flaunt your signature style by wearing this Mangalsutra by Bhagya Lakshmi. It will elevate your style quotient in no time. Preventive Measures: No direct Perfume, deo, wat...
read more
(as of January 17, 2021 - More info

Product prices and availability are accurate as of the date/time indicated and are subject to change. Any price and availability information displayed on [relevant Amazon Site(s), as applicable] at the time of purchase will apply to the purchase of this product.

)
(313)
₹ 460.00
₹ 285.00
Light weight 75 grams Hi bounce enjoy your game Durable | value for money Material rubber covered with felt In box contents pack of 6 balls
(as of January 17, 2021 - More info

Product prices and availability are accurate as of the date/time indicated and are subject to change. Any price and availability information displayed on [relevant Amazon Site(s), as applicable] at the time of purchase will apply to the purchase of this product.

)
(423)
₹ 449.00
₹ 399.00
Synthetic Machine wash PUMA is one of the world's leading sports brands, designing, developing, selling and marketing footwear, apparel and accessories
(as of January 17, 2021 - More info

Product prices and availability are accurate as of the date/time indicated and are subject to change. Any price and availability information displayed on [relevant Amazon Site(s), as applicable] at the time of purchase will apply to the purchase of this product.

)