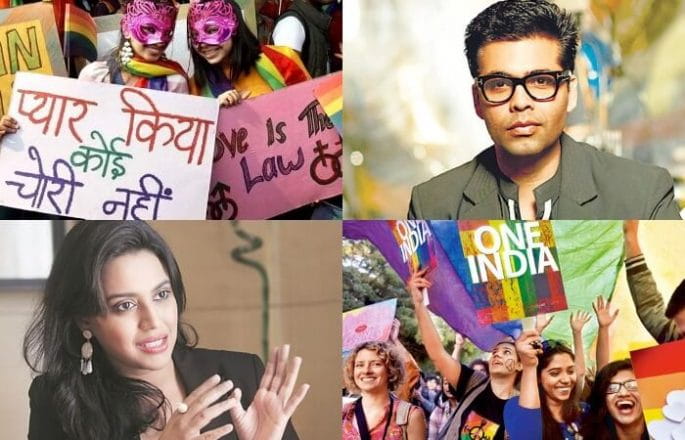 समलैंगिकता (Homosexuality) को अब अपराध नहीं माना जाएगा. जी हां, गुरुवार को सुप्रीम कोर्ट (Supreme Court) ने एक बड़ा फैसला सुनाते हुए कहा है कि समलैंगिकता अपराध नहीं हैं (Not A Crime). दरअसल, समलैंगिकता को अवैध बताने वाली आईपीसी की धारा 377 की वैधता पर अहम् फैसला सुनाते हुए सुप्रीम कोर्ट की संवैधानिक पीठ ने कहा कि LGBT समुदाय को भी समान अधिकार है. इस मामले में चीफ जस्टिस दीपक मिश्रा की अगुआई में 5 जजों की बेंच ने धारा 377 को मनमाना और अतार्किक बताते हुए निरस्त कर दिया है. सुप्रीम कोर्ट ने कहा कि समलैंगिकता कोई मानसिक विकार नहीं है और इस समुदाय के लोगों को भी दूसरों की तरह समान अधिकार है. इसके साथ यह भी कहा कि यौन प्राथमिकता बाइलोजिकल व प्राकृतिक है, जबकि अंतरंगता और निजता किसी की अपनी निजी च्वाइस है. ऐसे में यौन प्राथमिकताओं के अधिकार से इंकार करना निजता के अधिकार को देने से इंकार करना है.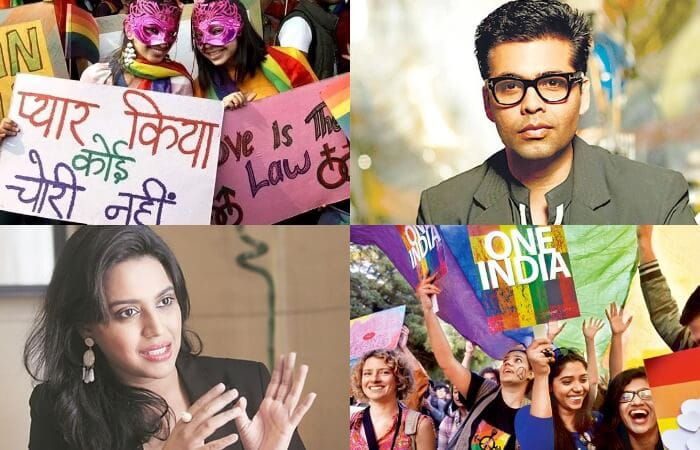 सुप्रीम कोर्ट के इस महत्वपूर्ण फैसले के बाद बॉलीवुड के जाने माने फिल्म मेकर करण जौहर ने ट्वीट करके अपनी ख़ुशी ज़ाहिर की है. उन्होंने ट्विटर पर लिखा है- 'ऐतिहासिक फैसला!!! आज बहुत गर्व महसूस हो रहा है ! समलैंगिकता को अपराध की श्रेणी से बाहर करना और धारा 377 ख़त्म करना इंसानियत और बराबरी के हक़ की सबसे बड़ी जीत है.'
करण जौहर- 
Historical judgment!!!! So proud today! Decriminalising homosexuality and abolishing #Section377 is a huge thumbs up for humanity and equal rights! The country gets its oxygen back! 👍👍👍💪💪💪🙏🙏🙏 pic.twitter.com/ZOXwKmKDp5

— Karan Johar (@karanjohar) September 6, 2018
करण जौहर के अलावा बॉलीवुड कई सेलेब्रिटीज़ ने समलैंगिकता पर सुप्रीम कोर्ट के इस फैसले का स्वागत किया है और इस फैसले की तारीफ़ करते हुए सोशल मीडिया के ज़रिए इस पर अपने रिएक्शन भी दिए हैं.
स्वरा भास्कर-
Congratulations to all the activists and petitioners on #SupremeCourt judgement scrapping #Section377 Your perseverance just made #India a freer place for everyone ! #LoveIsLove #Pride #377Verdict #377Scrapped Three cheers for the #SupremeCourt pic.twitter.com/grA64TTB3w

— Swara Bhasker (@ReallySwara) September 6, 2018
आमिर खान- 
We thank the Supreme Court for its decision to strike down article 377. It is a historic day for people who believe in equal rights for all. The judiciary has done it's duty, and now we must do ours. https://t.co/zzxc4kfNxS

— Aamir Khan (@aamir_khan) September 6, 2018
अभिषेक बच्चन- 
सोनम कपूर- 
https://twitter.com/sonamakapoor/status/1037595460418994177
वरुण धवन- 
A law implemented in 1860 is now abolished. A day for our entire nation to live with pride. Bye bye #sec377 #lovealllovefree #historic

— Varun Dhawan (@Varun_dvn) September 6, 2018
प्रीति ज़िंटा- 
"If you have a heart you should be free to love who you want." 😍❤️😍So Happy to hear that the Supreme Court of India 🇮🇳 has abolished #section377 decriminalising Homosexuality 👍 #equality #lgbtrights #nodiscrimination #ting pic.twitter.com/47yEBdkul7

— Preity G Zinta (@realpreityzinta) September 6, 2018
अर्जुन कपूर- 
Sanity prevails for once we can believe we have some sensible decision makers and lawmaker s available to this generation. #Section377 gone with the wind.

— arjunk26 (@arjunk26) September 6, 2018
नेहा धूपिया- 
More power … 🌈

— Neha Dhupia (@NehaDhupia) September 6, 2018
कोंकणा सेन शर्मा-
We won! Thank you SC! 🌈 🌈🌈#377IsHistory #pride
"Section 377 is arbitrary. The LGBT community possesses rights like others. Majoritarian views and popular morality cannot dictate constitutional rights. We have to vanquish prejudice, embrace inclusion and ensure equal rights."

— Konkona Sensharma (@konkonas) September 6, 2018
आयुष्मान खुराना- 
RIP #Section377
The new sunshine of this day is that of a progressive India. Love all!

— Ayushmann Khurrana (@ayushmannk) September 6, 2018
यह भी पढ़ें: शाहिद कपूर फिर बने पापा, मीरा राजपूत ने दिया बेटे को जन्म (Baby Boy For Shahid Kapoor And Mira Rajput)