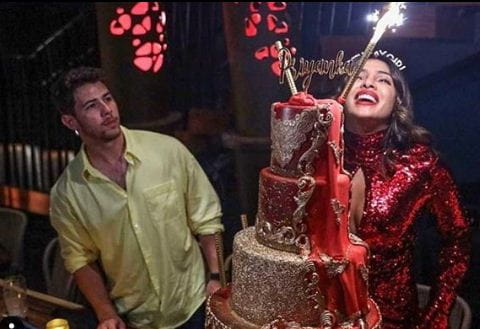 यह तो आप सभी को पता है कि प्रियंका चोपड़ा (Priyanka Chopra) ने 18 जुलाई को अपना 37वां जन्मदिन (Birthday) सेलिब्रेट किया. इस स्टार दीवा की बर्थडे पिक्स (Birthday Pics) कई दिनों तक सोशल मीडिया पर छाई रहीं. प्रियंका के पति निक जोनस और उनके परिवारवालों ने पीसी के जन्मदिन को खास बनाने में कोई कसर नहीं छोड़ी. प्रियंका अपना जन्मदिन मनाने के लिए मियामी गई थीं. प्रियंका के बर्थ पर जिस चीज़ ने सबसे ज़्यादा ध्यान आकर्षित किया, वो था उनका रेड एंड गोल्ड केक. प्रियंका ने केक कटिंग के लिए रेड शिमरी ड्रेस पहनी थी और मांग में लाल सिंदूर लगा रखी थी पर प्रियंका के पहनावे के साथ उनके थ्री टियर केक पर सबकी नज़रें थीं.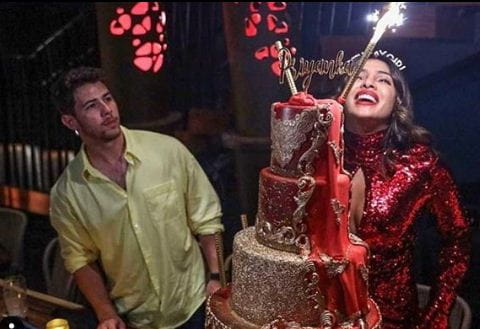 केक प्रियंका के रेड शिमरी ड्रेस के साथ बिल्कुल मेल रहा था. लेकिन आप उस केक की कीमत बता सकते हैं. खैर, अगर खबरों की मानें तो इस केक के लिए निक जोनस ने 5000 डॉलर यानी 3,45000 रुपए खर्च किए थे. जी हां, 24 किलो वजनी इस केक की कीमत इतनी ज़्यादा थी, कि आम लोगों की आंखें खुली की खुली रह जाएं.  प्रियंका का केक बनानेवाली बेकरी ने अपने सोशल मीडिया अकाउंट पर केक की पिक पोस्ट करते हुए लिखा, @priyankachopra Birthday cake all with edible 24K details #divinedelicaciescakes @nickjonas #priyankachopra #nickjonas"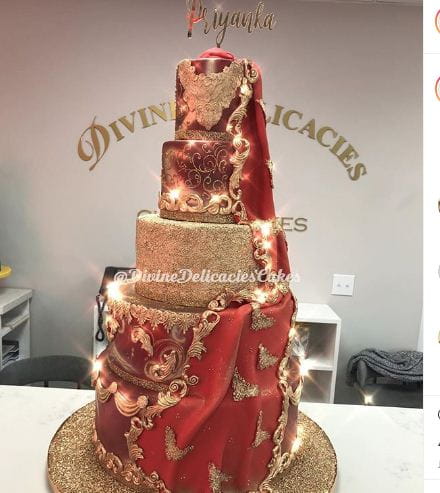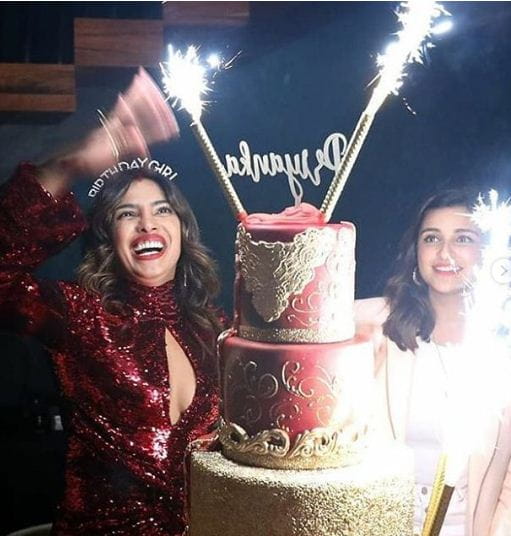 खबरों की मानें कि केक बनाने वाली टीम को अंतिम समय पर ऑर्डर मिला इसलिए उन्हें ज़्यादा समय नहीं मिला. इस केक को बेक करने व डेकोरेट करने में 24 घंटे का समय लगा. जाहिर है गोल्डन डेकोरेशन वाला केक, इतने सस्ते में तो नहीं मिलेगा….
ये भी पढ़ेंः BB 13: ये दो हॉट एक्ट्रेसेज़ बन सकती हैं शो का हिस्सा (These Two Hot Actresses To Be Part Of BB 13)
(328)
₹ 1,299.00
₹ 190.00
Contains : 1 Mangalsutra Colour: golden,Material: gold plated Look stylish and flaunt your signature style by wearing this Mangalsutra by Bhagya Lakshmi. It will elevate your style quotient in no time. Preventive Measures: No direct Perfume, deo, wat...
read more
(as of January 17, 2021 - More info

Product prices and availability are accurate as of the date/time indicated and are subject to change. Any price and availability information displayed on [relevant Amazon Site(s), as applicable] at the time of purchase will apply to the purchase of this product.

)
(313)
₹ 460.00
₹ 285.00
Light weight 75 grams Hi bounce enjoy your game Durable | value for money Material rubber covered with felt In box contents pack of 6 balls
(as of January 17, 2021 - More info

Product prices and availability are accurate as of the date/time indicated and are subject to change. Any price and availability information displayed on [relevant Amazon Site(s), as applicable] at the time of purchase will apply to the purchase of this product.

)
(423)
₹ 449.00
₹ 399.00
Synthetic Machine wash PUMA is one of the world's leading sports brands, designing, developing, selling and marketing footwear, apparel and accessories
(as of January 17, 2021 - More info

Product prices and availability are accurate as of the date/time indicated and are subject to change. Any price and availability information displayed on [relevant Amazon Site(s), as applicable] at the time of purchase will apply to the purchase of this product.

)