टूटी-फ्रूटी आइस्क्रीम – Tuti-FruIty Icecream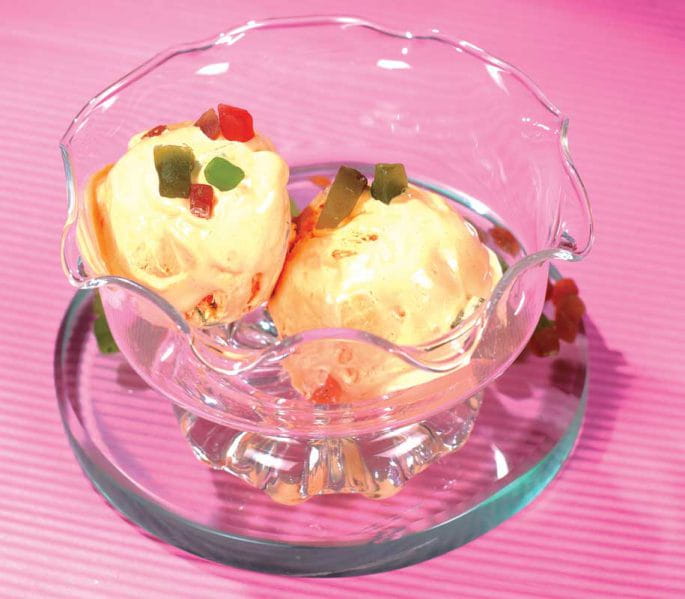 Tuti-FruIty Icecream
टूटी-फ्रूटी आइस्क्रीम – Tuti-FruIty Icecream
सामग्री: 1 बेसिक आइस्क्रीम, 1 टीस्पून ऑरेंज कलर, आधा टीस्पून ऑरेंज एसेंस, आधा कप टूटी-फ्रूटी.
विधि: बेसिक आइस्क्रीम को स्लाइस में काटकर मिक्सर में ब्लेंड कर लें. इसमें ऑरेंज कलर, ऑरेंज एसेंस और टूटी-फ्रूटी मिलाकर 6-8 घंटे फ्रीज़र में सेट होने के लिए रखें.
Content: 1 Basic ice cream, 1 tsp orange color, half tsp Orange Essence, Tutti-frutti half cup.
सामग्री: 1 बेसिक आइस्क्रीम, 1 टीस्पून ऑरेंज कलर, आधा टीस्पून ऑरेंज एसेंस, आधा कप टूटी-फ्रूटी.
Method: Basic Make ice cream in a blender to blend the cut slice. Put it to the Orange color, Orange Essence and Tutti-frutti combined in the freezer for 6-8 hours to set.
विधि: बेसिक आइस्क्रीम को स्लाइस में काटकर मिक्सर में ब्लेंड कर लें. इसमें ऑरेंज कलर, ऑरेंज एसेंस और टूटी-फ्रूटी मिलाकर 6-8 घंटे फ्रीज़र में सेट होने के लिए रखें.