बाजरा-मेथी का ढेबरा – Bajra – Methi ki Puri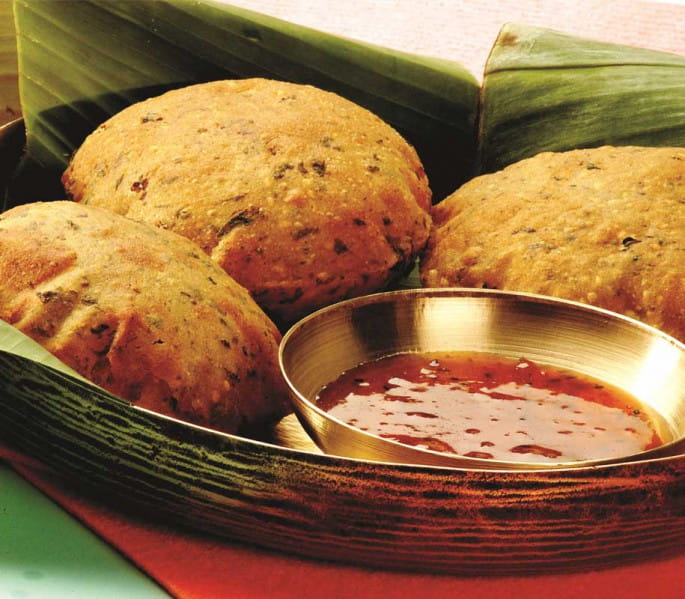 Methi ki Puri
बाजरा-मेथी का ढेबरा – Bajra – Methi ki Puri
सामग्री: आधा कप मेथी (कटी हुई), डेढ़ कप बाजरे का आटा, 1/4 कप दही, 1/4 टीस्पून हींग, 1 टेबलस्पून हरा लहसुन (ताज़ा और कटा हुआ), 1-2 हरी मिर्च (बारीक़ कटी हुई), 1 टेबलस्पून तेल, नमक स्वादानुसार, पानी आवश्यकतानुसार, तलने के लिए तेल.
विधि: सभी सामग्री (तलने के लिए तेल को छोड़कर) को मिक्स करके नरम आटा गूंध लें. लोई लेकर पूरियां बेलें. कड़ाही में तेल गरम करके पूरियों को सुनहरा होेने तक तल लें. गरम-गरम ढेबरों को चाय के साथ सर्व करें.
Ingredients: half cup of fenugreek (chopped), one and a half cup of millet flour, 1/4 cup curd, 1/4 teaspoon asafoetida, 1 tbsp green garlic (fresh and chopped), 1-2 green chillies (finely chopped) 1 tbsp oil, according to salt flavor, according to the water, oil to fry.
Method: Mix all ingredients (except oil for frying) and knead the soft dough. Take the puffery and take it off. Heat the oil in the pan and fry until the puries are golden. Serve hot hot sauce with tea.