बेलजियन चोको मूस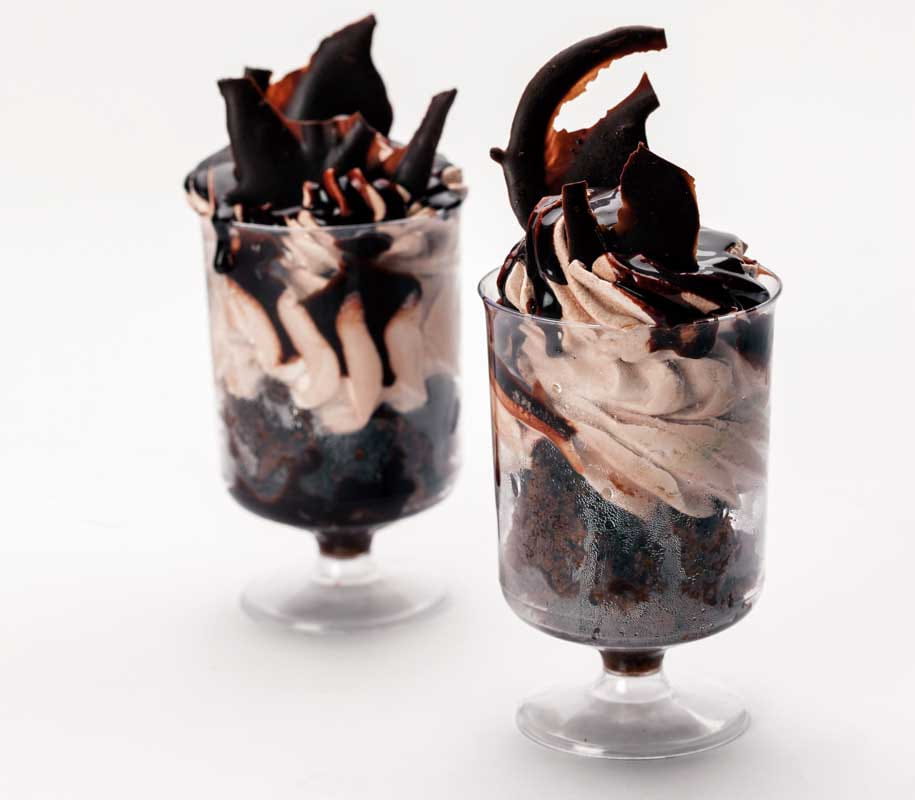 Belgian Choco Mousse
बेलजियन चोको मूस – Belgian Choco Mousse
सामग्री: चॉकलेट स्पॉन्ज केक का चूरा, फेंटी हुई फ्रेश क्रीम, बेलजियन चोको सॉस, चोको चिप्स, चॉकलेट गार्निशिंग
के लिए.
विधि: ग्लास में पहले केक का चूरा, फ्रेश क्रीम और बेलजियन चॉको सॉस डालें. चोको चिप्स और चॉकलेट से सजाकर
सर्व करें.
चॉकलेट चीज़ कप केक
सामग्री: 6 चॉकलेट कप केक, 1-1 चीज़ क्रीम और फेंटी हुई क्रीम, थोड़ी-सी चेरीज़.
विधि: चीज़ क्रीम और फेंटी हुई क्रीम को मिलाकर एक मिनट तक फेंट लें. कप केक के ऊपर चीज़-क्रीमवाला मिक्स्चर रखें. चेरी से सजाकर सर्व करें.
बेलजियन चोको मूस – Belgian Choco Mousse
Ingredients: Chocolate sponge cake slice, whipped fresh cream, Belgian choco sauce, choco chips, chocolate garnishing
for.
Method: Insert the first cake slice, fresh cream and Belgian chocolate sauce in the glass. Decorating with choco chips and chocolate
Serve it.
Chocolate cheese cup cake
Ingredients: 6 chocolate cupcakes, 1-1 cheese cream and whipped cream, little cherries.
Method: Mix cheese cream and whipped cream for a minute. Place cheese-creamy mixer on top of cupcake. Serve decorate with cherry.
(328)
₹ 1,299.00
₹ 190.00
Contains : 1 Mangalsutra Colour: golden,Material: gold plated Look stylish and flaunt your signature style by wearing this Mangalsutra by Bhagya Lakshmi. It will elevate your style quotient in no time. Preventive Measures: No direct Perfume, deo, wat...
read more
(as of January 17, 2021 - More info

Product prices and availability are accurate as of the date/time indicated and are subject to change. Any price and availability information displayed on [relevant Amazon Site(s), as applicable] at the time of purchase will apply to the purchase of this product.

)
(313)
₹ 460.00
₹ 285.00
Light weight 75 grams Hi bounce enjoy your game Durable | value for money Material rubber covered with felt In box contents pack of 6 balls
(as of January 17, 2021 - More info

Product prices and availability are accurate as of the date/time indicated and are subject to change. Any price and availability information displayed on [relevant Amazon Site(s), as applicable] at the time of purchase will apply to the purchase of this product.

)
(423)
₹ 449.00
₹ 399.00
Synthetic Machine wash PUMA is one of the world's leading sports brands, designing, developing, selling and marketing footwear, apparel and accessories
(as of January 17, 2021 - More info

Product prices and availability are accurate as of the date/time indicated and are subject to change. Any price and availability information displayed on [relevant Amazon Site(s), as applicable] at the time of purchase will apply to the purchase of this product.

)