हेल्दी चाट: स्प्राउट्स बास्केट (Healthy Chaat: Sprouts Basket)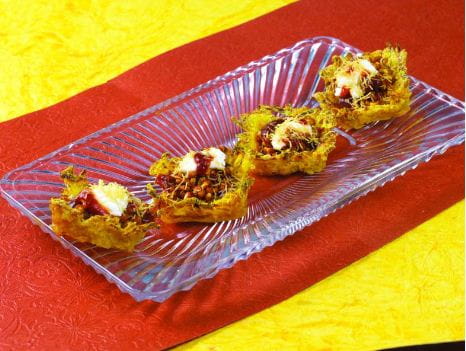 हेल्दी और टेस्टी चाट का मज़ा लेना चाहते हैं, तो यहां पर बताई गई स्प्राउट्स बास्केट (Sprouts Basket) को ट्राई करें. यह इंस्टेंट चाट है, जिसे आप तुरंत भूख लगने पर बना सकते हैं.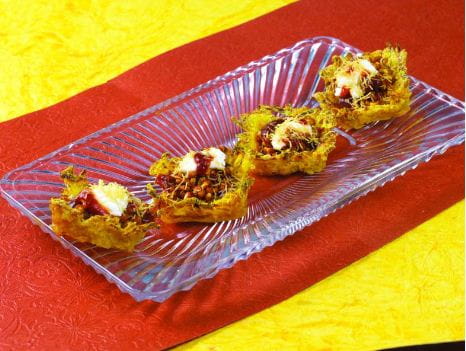 सामग्री:
बास्केट के लिए:
2 कप कच्चा आलू (कद्दूकस करके पानी निचोड़ा हुआ)
आधा कप कॉर्नफ्लोर
2 टीस्पून तेल
1/4 टीस्पून हल्दी पाउडर
फिलिंग के लिए:
आधा कप उबले हुए स्प्राउट्स, दही और इमली की चटनी स्वादानुसार, थोड़ा-थोड़ा चाट मसाला और बारीक़ सेव
और भी पढ़ें: पॉप्युलर मुंबई स्ट्रीट फूड: भेल पूरी (Popular Mumbai Street Food: Bhel Puri)
विधि:
आलू में कॉर्नफ्लोर, हल्दी पाउडर और तेल मिलाएं.
नॉनस्टिक कप केक टिन में तेल लगाकर आलू वाला मिश्रण भरकर बास्केट का शेप दें.
अवन को 170 डिग्री सें. पर प्रीहीट करके इन बास्केट्स को 18-20 मिनट तक बेक कर लें.
सर्विंग के लिए बास्केट्स में स्प्राउट्स रखकर ऊपर-से दही और इमली की चटनी डालें.
चाट मसाला और बारीक़ सेव बुरककर सर्व करें.
और भी पढ़ें: पॉप्युलर स्ट्रीट फूड: पापड़ी चाट (Popular Street Food: Papadi Chaat)
(152)
₹ 1,999.00
₹ 229.00
Color: Rose Gold Material: Brass It is advisable to store jewellery in a zip lock pouch (air tight pouch), keep away from water perfume and other chemicals and clean it with dry and soft cloth
(as of January 18, 2021 - More info

Product prices and availability are accurate as of the date/time indicated and are subject to change. Any price and availability information displayed on [relevant Amazon Site(s), as applicable] at the time of purchase will apply to the purchase of this product.

)
Amazon Auto Links: Amazon Auto Links: No products found.
(313)
₹ 450.00
₹ 285.00
Light weight 75 grams Hi bounce enjoy your game Durable | value for money Material rubber covered with felt In box contents pack of 6 balls
(as of January 18, 2021 - More info

Product prices and availability are accurate as of the date/time indicated and are subject to change. Any price and availability information displayed on [relevant Amazon Site(s), as applicable] at the time of purchase will apply to the purchase of this product.

)
(79)
Outer Material: Synthetic Closure Type: Lace-Up Toe Style: Round Toe Warranty Type: Manufacturer & Seller Warranty Description: 30 days
(as of January 18, 2021 - More info

Product prices and availability are accurate as of the date/time indicated and are subject to change. Any price and availability information displayed on [relevant Amazon Site(s), as applicable] at the time of purchase will apply to the purchase of this product.

)
Recipe Name
Sprouts Basket (स्प्राउट्स बास्केट)
Author Name
Meri Saheli Hindi Magazine
Published On