Dr. Nilesh Unmesh Balkawade,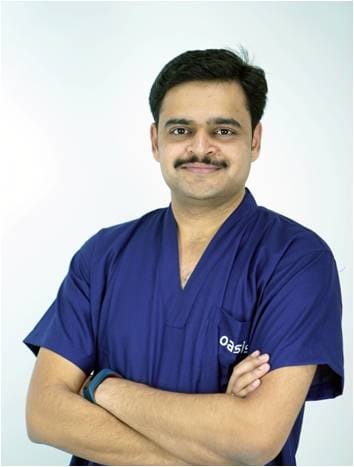 Clinical Head& Fertility Specialist
MS, DNB, MNAMS, FIAGE
Dr. Nilesh Unmesh Balkawadeis the Clinical Head & Fertility Specialist at the Oasis Fertility Clinic, Pune. He brings in the expertise and experience over 12 years in the fields of Infertility, Reproductive Medicine and GynecologicalEndoscopy.
Dr Balkawade iswell-known for handling infertile cases with a good success rate andhas brought solace to thousands of infertile couples with his compassionate care.
Dr Balkawade has successfully handled more than 1000 successful cases of operative laparoscopy and around 2500casesof diagnostic& operative hysteroscopy, especially hysteroscopic myomectomies.
Prior to his associationwith Oasis, Dr Balkawade has been a faculty ofReproductive Medicine at theUniversity Medical Centre, Schleswig–Holstein, Germany.
Dr Balkawadehasgiven manyguest Lectures at various National & International conferences. He has also edited several books and written articles for National and International Journals.